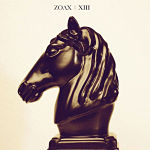 Barely a year old and already turning heads, the hard-hitting quintet of Zoax have got off to a superb start with debut EP 'XIII'. Not that it would surprise any already familiar with the five-piece formerly known as Hoax, who have been making a strong impression up to now with scorching performances both live and in what little has escaped from the studio. But when they've torn into Download Festival, toured with Cancer Bats and signed into the Century Media family in the first year of life as a band, you know beyond any doubt that there's promise there.  'XIII' is a statement that the potential can – and will – be lived up to. As if a band boasting members of Rise to Remain and To Catch a Thief could have you expecting anything less.
The opening track 'Bitter Angry Fake' is the centrepiece of an average-length EP that still manages to seem brutally short. It sounds almost feral; a level of ferocity which has worked so well for the likes of Night Verses and Cytota in their recent breakouts. There's no better way of saying it, the quintet already sound huge and every tool at their disposal is being utilised in a magnificent introduction to the band. When the track does take something of a breather, you can think of nothing but when it's going to explode again, and when it does, while the sheer force may not have been retained the towering nature of the band still shines through. 'Burn it to the Ground' is another well-composed piece, but it does highlight that the band's cleaner vocals do leave a little to be desired. When truly unleashed, however, the outcome is just as impressive as before, and Zoax don't exactly seem like the kind of outfit to be pulling punches.
The core appeal of Zoax as relative newbies with a beyond-impressive pedigree is one that's hard to ignore. It's post-hardcore with an arena-filling power, the likes of which many bands could go decades without nailing. Zoax have got it down at the very first attempt, setting them up as a serious force to be reckoned with in the near future. 'High' and 'Jekyll Meets Hyde' cement this position even more; the latter boasting a bit of groove within its hulking riffwork, whilst the former is a back-and-forth powerhouse of a track, with every ebb making the flows seem that much stronger. 'Mind Game' sees the EP closed out by its longest effort, and while the length isn't enough to have it sounding exactly "epic", the extra minute is definitely well-used as the quintet bring 'XIII' to a thunderous conclusion.
Nineteen minutes is not enough for Zoax right now. 'XIII' is a classic case of a magnificent EP held back only because it's an EP, and not a full-length release. It's not likely to be long, however, until more sounds emerge from the five-piece's camp and more optimistic fans can hope for a debut album to also come this year, but right now it's 'XIII' that's getting – and deservedly too – all the attention. Talk about making an impression.
4.5/5
'XIII' by Zoax is out now on Siege Of Amida Records.
Zoax links: Facebook|Twitter|Bandcamp
Words by Antony Lusmore (@Metacosmica)