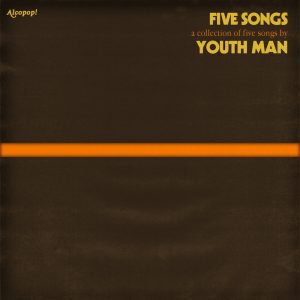 Watch Youth Man's 'Live At the Lounge' session and you'll see a band putting every ounce of energy they have into their performance. The result is eight minutes of blood-rushing adrenaline, bringing back memories of old At the Drive-In gigs, where the outside world was shut off and you were placed in a chasm of volatile urgency.
The issue is, that same urgency made itself present on At The Drive-In's albums as well as shows (minus 'in-ter a-li-a'). While Youth Man's previous works 'Bad Weather' and 'Wax' provide a barnstorming blend of muscle and mania, third EP 'Five Songs' feels lacking in that same gut-punch intensity that ignites its predecessors.
[soundcloud url="https://api.soundcloud.com/tracks/444775458″ params="color=#ff5500&auto_play=false&hide_related=false&show_comments=true&show_user=true&show_reposts=false&show_teaser=true&visual=true" width="100%" height="300″ iframe="true" /]
This isn't to call 'Five Songs' a dud by any means. Its slick crafted garage hardcore is performed with irresistible levels of swagger on 'Valley Girl' and 'I Don't Know', where Kaila Whyte and Marcus Perk's vocal interplay accentuates the twisted romance of each song. One cannot help but be gripped by the noir-tinted sorrow, as Whyte's frantic yells of 'I don't know how to love' are backed by Perk's crooning harmonies.
The pair often switch both singing and screaming duties across each song, which often builds tension on 'Constantly' and 'Statuesque'. Perhaps since becoming a duo, the songwriting motivation has shifted to accentuate vocal performance over instrumental.
In that sense, 'Five Songs' demonstrates this focus on frantic poetry perfectly, and there's no doubt that in a live setting, they'll rack up the same energy of the tracks from 'Bad Weather' and 'Wax'. But there's also been a toning down on the ferocity of musicianship from Youth Man, and one can only hope it returns on a full-length album.
3/5
'Five Songs' by Youth Man is out now on Alcopop! Records.
Youth Man links: Facebook | Twitter | Bandcamp
Words by Andy Davidson (@AndyrfDavidson)