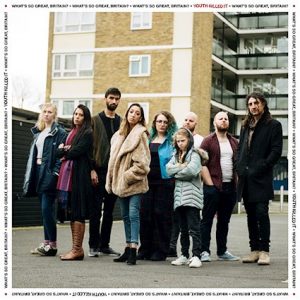 Following on from their successful and outright enjoyable debut record 'Modern Bollotics', Norwich five-piece Youth Killed It have returned with their convivial sophomore effort – a record that captures the essence of a divided Britain with tongue-in-cheek wit, at times almost having a laugh about how much of a mess things are.
Where their first record looked at more personal issues of being in a band trying to make a living, 'What's So Great, Britain?' puts society under the microscope instead, satirising modern British society, no better done so than the opening title track which comically points out "we only won the World Cup once / And now we're living like we're out in front". Elsewhere, thuggish lad behaviour is called out on the supremely catchy, indie-anthem 'Headbutt', while single 'Great British Summer' taunts the nation's Seasonal Affective Disorder, poking fun at frontman Jack Murphy's miserable, moaning neighbour.
Musically, it's hard not to like Youth Killed It's infectious indie-punk sound, as their light instrumentation harks of 90's indie-rock, tinged with punk elements of bands like The Clash. Frontman Murphy has a certain, real-talk swagger to his vocal delivery, that almost delves into rapping not too dissimilar to the likes of Rou Reynolds, or Jamie T – who gets a nice little name-drop on 'This Sounds Cliché'. Their sound is both fun and dance-worthy, like on the cheeky '0121', carrying a chipper chorus that flippantly jokes "you can call 01 do one". Yet it's not all taking the piss, with lyrics that point fingers and mock the ignorance of others' toxic actions. On 'What You're Thinking, it's clear the group aren't here to just make pretty sounds – they're trying to make people think.
'What's So Great, Britain?' is a first-rate follow up to the band's debut, and one that showcases Youth Killed It as a band capable of writing neat hooks, while lyrics lampoon the complex country we live in. Maybe Youth might save us.
3.5/5
'What's So Great, Britain?' by Youth Killed It is released on 5th October on Rude Records.
Youth Killed It links: Website | Facebook | Twitter | Instagram
Words by Dylan Tuck (@DylanJTuck)