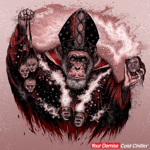 The rags-to-riches band story is an oft-encountered one within the realm of rockdom, though more often than not involves a "deal with the devil"-like inversely proportional downward curve of sonic integrity (and quality, though not always of course) as the appeal shifts to the largest common denominator. St. Albans' Your Demise has committed to such a narrative with the release of their 2012 album 'The Golden Age', something of a departure from their early hardcore punk roots towards more melodic pastures, with some songs – i'm looking at you 'These Lights' – sounding like barely amped-up Offspring tracks. Necessarily, a question that would be sure to naturally emerge after such a controversial release is: will their musical natural selection of sorts lead to a continuous scrapping of their hardcore leanings, or should it simply be considered as an exploratory blip? Cue their new EP 'Cold Chillin'.
The answer is: a particularly violent return to what is their better-honed skills. Opener 'Karma' titillates before storming out of the blocks with a tight wall of riffing, rarely venturing outside of full-on intensity. This time, there's no attempt to re-use clean vocals as McRae venomously violates his way through the track. It's a quintenssentially conventional, if not ordinary, metallic hardcore record. 'A Song To No One', on the other hand, gives a little space for singing in the chorus though it is built upon the same foundations. Consequently, it bears similar results; effective but bland metallic hardcore.
Humiliatingly setting aside my principle of avoiding repetition in serious critical writing, the above conclusions might serve as equally satisfying descriptions of 'Nearly Home' and 'Just Like The End', though the former is arguably half a notch above the the other three. This writer is sometimes amazed at the amount of love Your Demise get in the UK, considering the energetic banality of their style, thus goes the inscrutable opacity of music fandom. Certainly, the band deliver their hardcore with enraged panache and muscular instrumentals, yet it ultimately, and ironically, feels entirely lifeless. Still, 'Cold Chillin'' somehow manages to be the St. Albans lads' best effort, showcasing their finest riffs, most brutal expression and a sonic consistency they lost with 'The Golden Age'. It's also under par.
NB: I feel required to express reservations with regard to the band's expression, over time, of narrow-minded and segregating views. It is also important to separate art from personal politics, and consequently underline the responsibility that the listener/buyer bears in knowing exactly to whom their support goes (and against whom it might indirectly go as well).
2/5
'Cold Chillin'' by Your Demise is available now through Pinky Swear Records.
Your Demise links: Facebook|Twitter|Tumblr
Words by James 'Bearclaw' Lewis (@swissbearclaw)