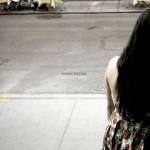 When all music starts to sound the same it's hard to describe what you want when you need new music. Young Statues immediately stood out as this 6 track began, sounding like the sort of music I'd expect to hear on The O.C or any other California based, sunny beach residing teen drama.
I'm a sucker for calming acoustics and complimentary vocals, so 'Eraser' had me from the start. 'Oohs' and 'aahs' can be very cliché most of the time, almost cringeworthy when used out of context or even in the right context, but it works perfectly in the sound that Young Statues have captured.
'So You Wait' is as high calibre as any song could be from any band of this genre. The UK music scene's pioneers right now are heading in this direction, and if they manage to get there then I have no doubt that they will succeed, as is obvious with Young Statues' potential if they carry on in this direction. <a href="http://runforcoverrecords.bandcamp.com/album/age-isnt-ours" data-mce-href="http://runforcoverrecords.bandcamp.com/album/age-isnt-ours">Age Isn't Ours by Young Statues</a>
You just can't not enjoy or be happy when listening to Young Statues, and 'Ghost Passenger' is just as cheery as the previous songs. Carmen's vocals and lyrics that draw you in with their story add the charm to the music that really make Young Statues stand out. The guitars hold the melody perfectly letting the vocals sit in front and play off each other, and the drums intricately hold the base while everything else moulds around it, most obvious in 'Hung Me Out To Dry'.
'My Only Friend' suggests that now the 'emo' phase of music has passed, the influence it has had since still works for more modern music. Young Statues are able to write songs that you can sing along to immediately, and the EP closer 'Foolish' display just how capable they are at it with the instantly catchy chorus' backing vocals.
Having reviewed Transit recently, and immediately loving them, I'm not surprised to see that Young Statues are touring with them at the moment. A short and sweet EP that caught me off guard and can only do well for the band, the music is charming and constantly upbeat that I beg anybody to give me a reason if they daren't like it.
4/5
'Age Isn't Ours' by Young Statues is out now on Run for Cover Records.
Young Statues links: Facebook|Twitter|Tumblr
Words by Callum McPhee