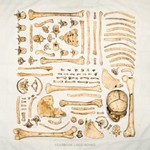 In the UK, as far as I'm concerned, the two bands who've truly strengthened their grasp on the poppier edge of indie-punk are Straight Lines and Tellison. However another band had been lurking in their shadow, waiting to spring out into the spotlight. Combining a heavier edge closer to the former's leanings and a willingness to infuse a little unpredictability, foursome Yearbook have built up a little niche for themselves and matured out of the inferior punkier vibe of their beginnings. While not an entirely resounding success, their new 'Old Bones EP' is nevertheless several steps in the right direction.
Allow me to start with what Yearbook get right. Take fourth track 'Classic Literature'. A superimposition of riffage and lickage full of proggy bends kicks things off with panache, but is swiftly followed by gently strummed chords before the soft vocal delivery rises into a shrieking storm of crashing cymbals galore. "I am Napoleon / I'm changing the rules" resounding over a rousing melodic finale only confirms the band's desire to consistently mix things up, even if the parts themselves aren't the most ingenious in themselves (compare and contrast to the likes of what Tubelord used to do).
That lack of genuine inventiveness on display perhaps reaches its epitome in closing track 'Sinker', less an echo of Brand New circa 2006 than a second-rate copy à la tribute band. Vocal mannerisms, song structure and instrumental arrangement all mirror Lacey and cohorts to an almost laughable degree, but much like B-movies borrow the conventions of blockbuster cinema and vulgarize them, it doesn't inherently make it a bad track. In fact it's by and large one of the EP's highlights and, if anything, proves that they could do well should they decide to bring the same drawn-out emotionality to their own brand of songwriting.
The rest of the EP is largely lukewarm. 'Old Bones' is entirely too reliant on effects to get any sort of drive going, especially for an opening track. 'Ropes' makes for an above-average indie-pop number, imbued with some welcome sentiment. 'Time Management', while a testament to their versatility, suffers badly from poor mixing. Finally 'We Are Strangers' boasts some classic alt. rock riffs, some of that sweet dirty bass, twinkly verses and a pretty swell chorus. Something for everyone, in short. For all its faults, 'Old Bones' betrays some very real talent, and a tangible enthusiasm for making exciting music. It's early days still, and Yearbook have something to build on and if their progress curve is to be believed, it'll only get better.
3/5
'Old Bones' by Yearbook is released on 5th March on Spinefarm Records.
Yearbook links: Facebook|Official|Website|Twitter
Words by James Berclaz-Lewis (@swissbearclaw)