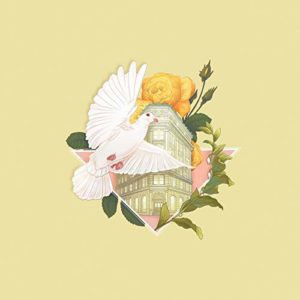 It's been over a year since Yellowcard played their final show, but frontman William Ryan Key has been keeping himself busy with DIY stripped back solo EP releases. Six months following the release of his debut 'Thirteen', 'Virtue' further delves away from Key's prolific pop-punk musings, and steers further towards melancholic indie rock.
Of course, the squeaky-clean production that was present on Yellowcard releases is still evident with 'Virtue', which can be a slight distraction from the immersive textures present here. Whether influences from current popular indie artists were intentional in creating these songs, Key has certainly crafted his own take on the genre.
Opener 'The Same Destination'  takes cues from Julien Baker with its rich, uplifting instrumentation, whilst 'The Bowery' sounds very Sufjan Stevens-esque, due to the warming vocal harmonies and dynamic guitar plucking. The storytelling aspect of these songs is endearing, even if the subject matter at times is cliché. This is especially apparent when Key recalls nostalgic memories of New York.
The title track is a far more brash and anthemic endeavour, with Key detailing how it feels to recover after a painful breakup; "Still not out of the cold but I pretend, that all of this had a warm and graceful end" are particularly hard-hitting lines,  as the heavy-handed snare fills and noisy riffs intensify the song's emotional finale.
It's a shame that despite 'Virtue' further showcasing a more reserved and vulnerable side of Key's songwriting, the robotic vocals on 'No More, No Less' take a bit of getting used to, and perhaps were not the best production choice to use.
Despite this, it's clear that Key is keen to experiment with his emotional sound, with an outlet that isn't overshadowed by Yellowcard's legacy. 'Virtue' is yet another soulful release that isn't ashamed to wear a number of memorable influences on its sleeve.
3.5/5
'Virtue' EP by William Ryan Key is out now on The Lone Tree Recordings.
William Ryan Key links: Website | Facebook | Twitter | Instagram
Words by Ashwin Bhandari (@GIVEUPOX17)