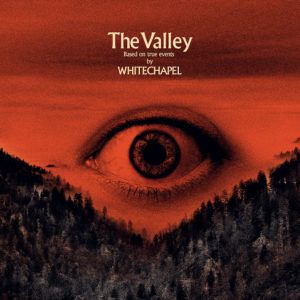 After dipping their toes into more experimental waters on 2016's 'Mark of the Blade' Whitechapel have dived straight in with new album 'The Valley'. The pure deathcore sound of old is gone. Instead, relentless riffing is blended with a diverse range of grooves and soundscapes. So, while you certainly recognise where its roots lie, the album feels expansive and pleasingly different.
'When a Demon Becomes a Witch' leads out with a delicate guitar refrain and features haunting vocals – yes, you read that correctly. Yes, there are grunts and battering riffs too, but it isn't what you expect at all. It's odd but works surprisingly well. Likewise, 'Forgiveness Is Weakness' might feel familiar as it kicks off like a deathcore lawnmower but importantly, it doesn't stay safe for long, nothing here does, which is the record's real strength.
Much has been made of vocalist Phil Bozeman's singing voice, mainly because he sounds like Corey Taylor, but that's definitely a compliment. Particularly on the slow, atmospheric 'Hickory Creek' which is the band's first song relying purely on clean vocals. Elsewhere, Bozeman is as powerful and grunty as ever, while lyrically, he keeps things honest and mixes in a more grounded style, dishing out heartfelt sentiment amongst more fanciful passages.
While you can't fault the driving riffs on 'Black Bear' or the persistent tread of 'Third Depth', the fluid feel means songs are often interrupted with atmospheric middle sections. Sometimes it feels as if breakdowns have been traded for experimental asides, but it can also be ruthlessly effective. 'We Are One' is the perfect example as its fast, powerful opening gives way to an eerie whispered section, before finally being torn to shreds by Ben Savage's lead guitar, it truly sounds seven albums in the making.
Overall, 'The Valley' is surefooted and surprisingly satisfying.  At times it doesn't feel quite right, but mainly succeeds in taking the band into new territory, hence its ambition and execution should be praised.
3.5/5
'The Valley' by Whitechapel is released on 29th March on Metal Blade Records.
Whitechapel links: Website | Facebook | Twitter | Instagram
Words by Ian Kenworthy (@WhisperingSand)