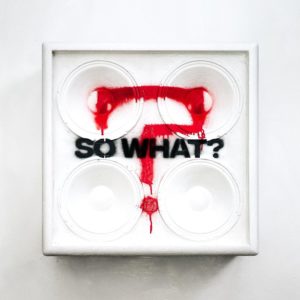 For any established artist, the greatest challenge in one's career is always going to be handling the existing tug-of-war between evolving one's sound while adhering to the expectations of a rabid fanbase. And when you're a band as consistently brilliant as While She Sleeps, anything that falls short of that weighty expectation is enough to make the entire foundation collapse.
So, fourth album 'So What?' answers the dilemma of how to evolve ones sound while staying true to the values that has championed them as the people's metalcore band; the band that transcended the world of Warped Tour-friendly jock hardcore to become frontrunners of contemporary heavy music alongside Architects, Bury Tomorrow and Northlane.
[youtube https://www.youtube.com/watch?v=22CmxMJU2V0]
Of course, the fiercely anthemic nature of their songwriting is why Sleeps can play 1000+ cap venues with ease, and naturally, they've pushed that element of their craft further on 'So What?' than previous releases. Fans of 2017 megahit 'Silence Speaks' will revel in the combination of tense intense buildup-and-release 'core breakdowns with soaring alt-metal choruses found on 'The Guilty Party' and 'So What's' title track. Meanwhile fans of the groove-laden 'Feel' will find themselves leaping in any open space they can find when they hear the adrenaline pumped rhythm section blasting through 'I've Seen It All' and 'Back of My Mind'.
The biggest takeaway from 'So What?' is that While She Sleeps are letting their anthem-writing overtake any other expectations that may be placed on them as a metalcore band. As a unit, they come together as the sum of their parts, sacrificing the need to be the most skilled/heavy musician to make great songs instead. For some fans, this less-is-more approach may be off-putting, but when the full band comes together in the colossal sing-along outro to 'Gates of Paradise', it's impossible to feel anything but inspired.
4.5/5
'So What?' by While She Sleeps is released on 1st March on Sleeps Brothers.
While She Sleeps links: Website | Facebook | Twitter | Instagram
Words by Andy Davidson (@AndyrfDavidson)