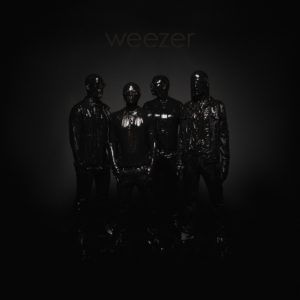 Throughout their considerably inconsistent discography, Weezer's spectrum of eponymous colour albums has, mostly, been well received. Of course, 1994's 'Blue Album' is still held as a classic and rightly so. While 'Green', 'Red' and 2016's 'White' album proved to be strong outings for River Cuomo and company. The latter being seen as a return to form. Whereas 'Teal', a polarising throwaway collection of covers probably shouldn't be recognised as part of the series.
So with evidence of a promising outing, the latest colour instalment, 'Black', turns out to be a massive disappointment with horrific results. If you thought 'Raditude' and 'Hurley' were career low points, then be prepared to stomach a set of slick, at times, lyrically cringey songs that have very few redeeming qualities.
Sure, we understand Weezer don't want to tread on past glories but when Cuomo is serving up lyrics such as "I don't know karate or Kung fu but I'm going to make it in this world" (See the reggae rock-tinged 'Zombie Bastards'), you'd be pleading for another 'Pinkerton'.
From the awkward rapping on the Latin flavoured opener, 'Can't Knock the Hustle', to the funky 'Living in L.A.' to the glam rock stomp of 'The Prince Who Wanted Everything', 'Black' really doesn't have much going for it. Ironically, 'I'm Just Being Honest' sees Cuomo sums it up perfectly as he sings about turning off a demo halfway through as it sounds like shit. It's just how we felt six songs deep.
If there's a beacon of hope on here, it's the lofty 70s piano pop 'High As A Kite'. Its harmonious delivery has hints of the Weezer we loved. Yet it's all forgotten about by the time you get to the instrumentally tinny 'Byzantine' and psychedelic electropop/hip-hop closer 'California Snow'.
Whether it's a blatant attempt to stay relevant or the sound of a band simply not caring anymore, is left open for debate. Nevertheless, the 'Black Album' is another dagger in Weezer's declining legacy.
1.5/5
'Weezer (Black Album)' by Weezer is released on 1st March through Crush Music.
Weezer links: Website | Facebook | Twitter | Instagram | YouTube
Words by Sêan Reid (@SeanReid86)