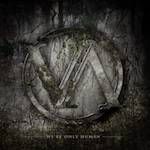 Hailing from Charlestown, South Carolina and the new music project from He Is Legend guitarist Worth Weaver, this band is definitely something catchy. The mix of heavy and lead guitar riffs with some added catchy as hell choruses, Versus Angels bring some rock and roll style songs with that sweet and slick polished vocal sound.
This EP is short but it does the job well and showcases some of the band's great-sounding songs. 'Holy City Hate' starts off with some heavy riffs which leads into a melodic guitar-filled catchy chorus, slowing down and then ending on an extended chorus; it's a great start.
Two songs which completely juxtapose themselves are the songs 'Wait For You' and 'Walking Out', the titles alone give a hint as to what they're about. With lyrics like "I'll wait for you and I'll wait for you coz I know deep down your worth the wait" to "Tonight I'm walking out on you, my heart is waiting to explode". Both are proper rock filled ballad songs boasting plenty of heavy riffs, lead guitar parts and also bringing in some melodic flourishes as well.
As the bass guitar and acoustic guitar lead you into 'The One's Who've Gone Cold' you think it'll be a nice and slow-sounding song but it isn't. The lead guitar and rock riffs come in quick enough to be cut and slowed down again, the song dips and rises in tempo bringing it to a slowed-down ending.
The final track on the EP is the title song, 'We're Only Human', which for me showcases the band off perfectly as it has a nice mix of rock riffs and lead guitar parts. The vocals come through the wall of guitars to bring in that catchy sweet pop sensibility from vocalist Tony Morgan.
This EP really showcases what the band is about and has seven solid tracks of rock yet melodic fused music. This in my opinion is also its downfall as well as I would have liked to have heard a more slower song to just split the EP up even if it was one or two of the songs acoustically. Lyrically the songs are full of heartbreak and hope, and situations we go through in life, hence the title of the EP 'We're Only Human'.
3/5
'We're Only Human' by Versus Angels is available now on Mosaic Artistry Group.
Versus Angels links: Facebook|Twitter
Words by Aaron Wilson (@soundslikeajw)