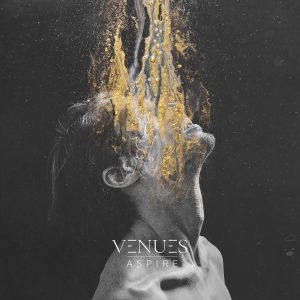 Back in 2016, Stuttgart's Venues impressed with their 'Tear Down a Venue' EP. Opening like a metalcore-powered chainsaw before quickly diversifying into A Day To Remember gone feral. It basked in huge choruses yet was unable to resist a big metal breakdown. Nyves Krithinidou brought soaring clean vocals, which contrasted sharply with Robin Baumann, her male counterpart, and his Architects-lite screams. It was a great statement of intent. Now their back to unleash their debut album 'Aspire'.
With ten times the confidence, 'Aspire' benefits from crisp production at the hands of Christoph Wieczorek (Annisokay) and chances are that intent is world domination. Opener 'We Are One' is a belter. Fast, slick and only arms-length metal.
And it's followed by 'Lights', a dance-along, beach-party number. It starts jarringly slowly. It's like running into a glittery brick wall. Synths sparkle, vocals are near-rapped. Unexpected, and great, yet killing the momentum. Such poor sequencing is a massive stumbling block, especially with so much to work with.
Throughout, only a faint whiff of their original metalcore sound remains, mainly courtesy of Dennis Vanhöfen's drumming. Guitarists Toni Lixx and Constantin Ranis play in many styles and often avoid heavier sounds entirely. Likewise, Baumann's gruff vocals are given a back seat. Although Florian Brett provides a prominent bass rumble on 'Shades of Memory,' elsewhere he's buried by the production. However, everything comes together brilliantly on 'Silence' and 'Dilemma'.
It's not all plain sailing, however, 'The Epilogue' features piano soundscapes with so much sunrise-across-the-ocean shimmery, it's almost overwhelming. And 'My True North' nearly sags under a lethargic chorus.
Overall, this is a very impressive debut. Venues have big, accessible songs and aren't afraid to try new things. 'Aspire' could well catapult them into the big time, despite being sabotaged by its utterly baffling track order.
3/5
'Aspire' by Venues is released on 27th July on Arising Empire.
Venues links: Facebook | Twitter | Instagram
Words by Ian Kenworthy (@WhisperingSand)