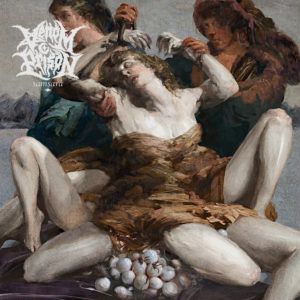 Brace yourself. After winning 'Best Newcomer' awards with their debut album, Venom Prison return with 'Samsara', and it's not for the faint-hearted. Rather than branch out, aiming for wider appeal, they've turned all the dials to 11, the results bordering on legendary.
From seconds after 'Matriphagy' opens things up it's a gloriously unrelenting assault on the senses. By fully embracing death metal it makes their debut 'Animus' sound tame by comparison, which is a feat in itself. Guitarists Ash Gray and Ben Thomas add texture and rapid swirls, cleaving the songs left and right with slick squeals.
There's a tonne of technical work going on too, but it never feels showy, unless they want it to. For example, see 'Naraka' and 'Asura's Realm'. The latter opens with big solos before throwing you back into the meat grinder. Yet, the real trick is that everything sounds so essential, gone is the constant background chug of their earlier work, every moment grips you. Especially on the huge five-minute 'Implementing The Metaphysics Of Morals' which somehow makes the calm before the storm sound tempestuous and tosses you into a whirlpool of tempo changes.
Producer Tom Dring has captured the sound in such a needle sharp way it doesn't just assault the ears, it tears them both off and nails them to the nearest wall. Vocalist Larissa Stupar benefits from this too, so while the guitarists are whipping up a frenzy, her deep roar and biting scream cuts through, dripping with viciousness and anger.
As you'd expect on a record named after the Buddhist concept of being reborn into suffering, lyrically, it's powerful stuff.  Whether she's addressing the usurpation of motherhood or weighing testicles on the scales of justice, her choice of words is both inspired and thought-provoking.
Venom Prison have outdone themselves with 'Samsara', a record so vicious it's like being chewed upon by a pack of hungry dogs, yet it's threaded with a powerful message, creating an intense but deliciously compelling package.
4.5/5
'Samsara' by Venom Prison is released on 15th March on Prosthetic Records.
Venom Prison links: Website | Facebook | Twitter | Instagram
Words by Ian Kenworthy (@WhisperingSand)