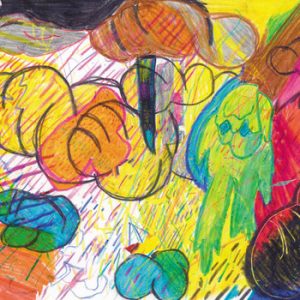 When it comes to people's knowledge of Mike Vennart, there is a lot of focus on his lengthy work with the now-defunct Oceansize. Despite having already put out solo works, regularly touring with Biffy Clyro and being in a variety of new bands, this reputation has never faded. His latest album, 'To Cure A Blizzard Upon A Plastic Sea' could be the redefine this and more, as it's one of the most triumphant and impressive prog-rock albums of 2018.
It's easy to see how this has happened. A career of song-writing, boundless experience and constantly being surrounded by great musical environments has cast Vennart the perfect storm of inspiration. From the first patient bass riffs of 'Binary', you can feel the metered passion behind this album. It's richly layered, brooding with atmospheric drum beats and cosmic vocals.
The attention to detail production-wise is beautiful, every moment of music on this album feels consistently carefully planned and it's satisfying. 'That's Not Entertainment' opens sounding like a Pink Floyd love letter, with soft grooves layered on tactically smooth organ chords and heart-tugging brass whines. Mike's vocals are powerful and refreshingly distinct. It ends in a euphoric, glassy wave of horns that feel as haunting as they do blissfully.
Even when things stray to new ideas they're pulled off brilliantly. Some of the best moments include 'Sentientia' surrounding itself with near blast-beats and 'Diamond Ballgag's closing phaser riff orgy. The only moments that feel like misfires are some of the immersion breaking lyrics (see: 'Friends Don't Owe')
With all the good on this album, Mike Vennart defines himself as a talented and original songwriter undeserving of the past that some clutch on to so dearly. Despite all the good that was done with Oceansize, it's time for us to look forward. This is his best solo album yet, and possibly the best project he's ever been a part of.
5/5
'To Cure A Blizzard Upon A Plastic Sea' by Vennart is out now on Medium Format.
Vennart links: Website | Facebook | Twitter | Bandcamp
Words by Sam Seaton (@citrus_music_)