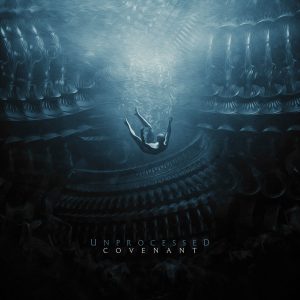 Prog-metal and tech-metal are both continuing to enjoy a period of exceptionally rude health, though that's really no surprise. There's been a guaranteed market for anything the genres have to offer virtually since their inception, and at the rate that new bands have been coming out and vying for a prime-time slot, it's no surprise the flood hasn't even begun to let up.
But as has been stated time and time again, it's the stuff that stands out from the pack that really makes a mark, and on their new album 'Covenant', Germany's Unprocessed haven't really achieved that. Mostly because you can effectively hear the boxes on the prog-metal list being ticked off; its  a spacious, instrumentally grand album imbued with a head-melting concept and a healthy dose of both melody and brutality. For the most part, this feels like a very standardized take on the genre, from the collapsing, iron-edged polyrhythms on 'Ghilan' and 'Millenium' to Manuel Gardner Fernandes' pliable vocal style that stretches between guttural howls and ethereal melody.
And yet, at least Unprocessed pull off the sound. At least there's nothing that feels phoned-in or unworkably thin, and across fifty minutes, the sense of drama and proficiency refuses to let up. The likes of 'Malleable' and 'The Mirror' mightn't innovate much within their tech-metal boundaries, but on a wider scale, there's something so compelling and engaging in their sense of scope that this sort of thing captures so well. Unprocessed mightn't be pushing the envelope here, but the best possible result is still reached.
That said, there's not a lot on 'Covenant' that feels all that novel. Especially to tech-metal fans. Unprocessed are serving as a boon for the genre more than an outright lift. But still, there's a technical musicianship on display here that makes this worthwhile regardless. Even if they are a fair few steps behind the pinnacle of what the genre has produced.
3/5
'Covenant' by Unprocessed is out now on Longbranch Records.
Unprocessed links: Facebook | Bandcamp | Instagram
Words by Luke Nuttall (@nuttall_luke)