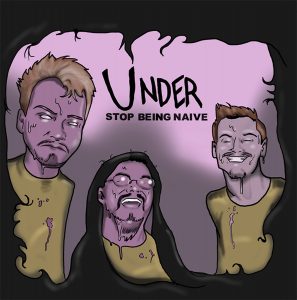 From Stockport's murky underground comes Under, a band that have been blowing venues to pieces with their ferocious concoction of sludgy, noisy metal. Their latest offering, 'Stop Being Naive' expands on the sounds they explored on last years 'Slick', and they do it in filthy fashion.
Album opener 'Malcontents' has one of the heaviest riffs of the year which takes you on an audible trip and whacks you around the face when the final riff comes. This band definitely isn't playing games. 'The Climb' opens with creepy vocals and chunky guitars that scream of the influence of Melvins and Faith No More. As a result, this lumbering track is a surefire highlight of the album.
'Traitor's Gate' comes at you with a stonking bass line that oozes sludge. After the feedback subsides, the drums and guitar kick in and your ears are blown to smithereens by the sheer magnitude of the music. A stylistic shift occurs on 'Big Joke'. The melodic guitar gives the listener an eerie introduction to the song and ends up as a thunderous slab of noise. The heaviness is reined in on 'P.Irving' which is a noisy affair that hones the off-kilter approach to songwriting of The Dillinger Escape Plan, but adds a touch of Steve Albini-esque vitriol, creating an Avant-Garde rager.
'Happy' is guaranteed to make you mosh around your living room. It is reminiscent of Every Time I Die and their slamming breakdowns. The song ends on a psychedelic note, which along with the erratic hardcore sound, adds more layers to this already eclectic canvas.
For underground bands these days, it's hard to set yourself apart from your contemporaries, but Under have done it in grandiose fashion. 'Stop Being Naive' is a sonic assault to the senses that pummels you with a cacophony of genres. Above all, this band should be recognised as a promising act not to be ignored.
4.5/5
'Stop Being Naive' by Under is released on 26th October through APF Records.
Under links: Facebook | Bandcamp
Words by Dylan Whitty (@rootsinwax)