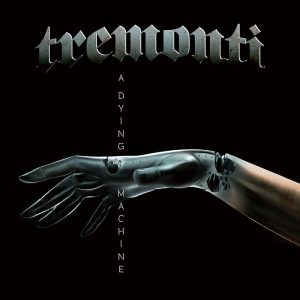 While Myles Kennedy stands as the powerhouse face of Alter Bridge, it's Mark Tremonti's guitar work that's really taken them over the top. After all, there are few bands in modern hard rock that can get as heavy and borderline progressive as they can, a notion exacerbated by the phenomenal sense of scope and ambition present in Tremonti's eponymous side-project.
And on 'A Dying Machine', very little has changed. Four albums in and Tremonti are continuing to push themselves creatively, this time with a concept album surrounding a war between humans and cyborgs (with an accompanying novel to be released, no less). Granted, it's tough for the final product to match the scale of the ambition. At an hour long, the expected filler does show up, particularly in the final third, but there's enough density in the concept and execution to make up for it. The progressive and speed-metal influences on 'Throw Them To The Lions' and 'Traipse' inject some notable thrills here, while the power ballad 'The First The Last' is definitely more accessible, but still has that dexterity.
That's definitely the crucial factor about 'A Dying Machine' that works so well; it might be more progressive and detailed than Tremonti's main project, but this is still a brand of arena-friendly hard rock that's so easy to get on board with. Whether that's the proliferation of towering, crunching riffs, or some impressive vocal lines from Tremonti himself. Just take 'Take You With Me' or the aforementioned 'The First The Last', both of which have that surging, progressive touch but would fit seamlessly on rock radio.
It's impressive stuff, especially considering how overlooked Tremonti go with regards to the modern metal conversation. Even though not everything connects entirely, there are enough thrills for any hard rock or metal fan to get plenty of mileage out of it. A album is bit bloated, sure, but it has more than enough to make up for it.
3.5/5
'A Dying Machine' by Tremonti is released on 8th June on Napalm Records.
Tremonti links: Website | Facebook | Twitter | Instagram
Words by Luke Nuttall (@nuttall_luke)