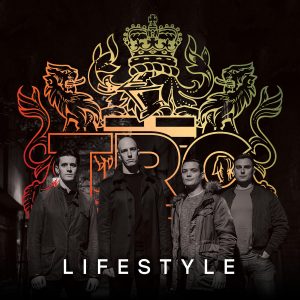 You may remember TRC back when they were a seven-piece band experimenting with combining hardcore with grime and hip-hop. Now, the Londoners are down to four and have planted their feet firmly in the field of full-on hardcore but without losing any of their punch or originality.
'Lifestyle', is something of a comeback release for the band, having not released anything in five years. Nevertheless, they're clearly back with a bang, putting the spotlight on their hometown hardcore scene with these six exciting tracks.
There's an old phrase in the writing industry – "write what you know" – and that certainly seems to be the case for TRC, singing exclusively in their own accents and about their own experiences of life in the capital. Most notably 'London's Greatest Love Story Part II', a track which also happens to contain the only guitar solo on the EP, simple but pretty with a haunting echo effect.
These songs frequently raise a smile and don't take themselves too seriously, despite a deeper social commentary running beneath the surface. 'Scrounger', for example, is an aggressive rallying statement against those in society who take without giving back anything, told through the story of someone not paying for their fish dinner! Whereas 'Moaner' contains the amusing lines – "silly little twerp" and "just like a bad back, you're getting very annoying". The song also has a humorous video with the band poking fun at themselves and the music industry.
'Lifestyle' has everything you might expect from a hardcore record – the breaks, the brutal guitars, throaty shouts bristling with attitude and angst. The dirty heaviness of it all explodes in the finale of 'Same. But Better', a song which could sum up TRC themselves, and indeed, this EP. It's great to see TRC back on the scene again, and this is a promising start to their new era.
3/5
'Lifestyle' EP by TRC is out now.
TRC links: Facebook|Twitter|Bandcamp
Words by Bec Simpson (@swallowmyeyes)