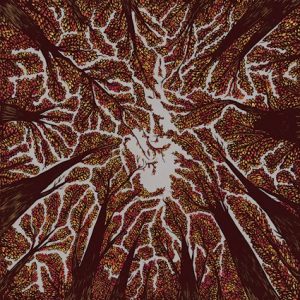 In a time where pop-punk is feeling more stale and repetitive than ever, it takes a lot for a band within the genre to not feel completely stock and really capture your attention. Step-up St. Alban five-piece Trash Boat who, with complete authority and confidence in their new-found heavier sound, grab you in truly captivating fashion on their sophomore effort 'Crown Shyness'.
Following on from their pumped-up 2016 debut LP 'Nothing I Write You Will Change What You've Been Through', 'Crown Shyness' shows off a clear sense of progression and finding their feet on album number two. Where bands typically choose to dive head first into a lighter feel, Trash Boat make the tone darker, the themes more cathartic and the overall experience a far more intense listen.
For starters, there's an obvious lack of easy-listen pop-rock, with a clear press on including more melodic-hardcore influences, something that was only dished out in flashes on the band's debut. Straight in with huge singles 'Inside Out' and 'Shade', frontman Tobi Duncan wastes no time in unleashing fierce, guttural vocals over meaty riffs and migraine-inducing drums. This pressure is consistent and throughout the record, you hear way more of this fresh angst-ridden Duncan, adding a necessary bite to beefed-up tracks like 'Controlled Burn' and the emphatic closer 'Love, Hate, React, Relate'. The group still retain their talent for writing incredibly hooky choruses too, like on the newly-released power-house of a single 'Old Soul'.
Lyrically and thematically, Duncan opens himself up through his depictions of mental health, particularly tackling depression and its development into adulthood. The album title reflects the natural phenomenon of treetops separating themselves from one other, while also serving as a clever analogy of what it's like to be closed-off when suffering from mental health issues – a theme explored to its fullest form on the bitter-sweet, stripped-back acoustic title track.
To label Trash Boat as a pop-punk band almost seems insulting at this point, for they're far more explorative of their style and concepts than your average, run-of-the-mill pop-punk band. To put it simply, 'Crown Shyness' is the best step forward that the pop-punk scene has seen in a long time. With any luck, this record should see Trash Boat elevated to the platform they deserve to be on.
4.5/5
'Crown Shyness' by Trash Boat is out on 20th July on Hopeless Records.
Trash Boat links: Website | Facebook | Twitter
Words by Dylan Tuck (@DylanJTuck)