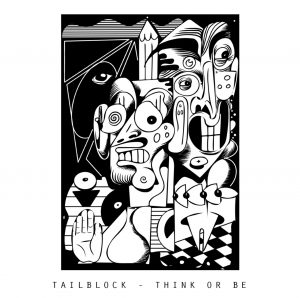 "Life is all about the journey, not the destination", or so the famous quote says. 'Think or Be', the second EP from Dartford three-piece Tailblock, embodies this perfectly. Over six tracks, we're taken on a post-hardcore tour. And, while they haven't quite reached what they're aiming for, this is a journey worth taking, with much to enjoy on the way.
Opener 'Think or Be' features a driving mechanical riff (bringing to mind Taking Back Sunday's 'What's It Feel Like to be a Ghost?') It gets the toes tapping, drawing you in. Subsequent song, 'Heavy Arms' continues this theme. Only it isn't quite so effective, trading pace for a forced chorus and a fuzzy thrash-around outro. Yet, this is a journey, each stop offering a different take on their sound. After trying something, they move on.
Throughout, a real highlight is the vocals of Gary Ptaszek. With a similar style and feel to the Sleeping's Doug Robinson, wringing melody and emotion from the lyrics. During 'Rocket,' his changing emphasis, frequent yelps and drawn out notes, allows drummer Martyn Kingsmill to weave in affective harmonies. While bassist Jak Coleman also provides backing vocals, adding power when needed. Lyrically, it's not a happy record, but neither does it wallow. Countering every forlorn 'Give me a sense of purpose' with a hint of optimism. An approach that works well with the subtleties of Ptazek's voice.
The biggest leap in style doesn't arrive until 'Blisters'. Showcasing the band's heaviest side, it crams 99% of the EP's aggression into its opening. The ragged guitar delivery sounding like Reuben at their noisiest, until it suddenly tails off, leaving it feeling rushed and unfinished, unlike follow-up 'Listen'. Here they play to their strengths; atmospheric verses broken by punchy distortion, instrumental passages filled with angular feedback, drumming that builds, all complimenting the bassy rumble. And that voice. It's thrilling! Before, finally, we're left with the optimistic and almost shimmery '100'. A coda to the journey. With its refrain of  "I'm here for you", it's the sound of comfort, of arriving home.
Tailblock have almost got it. A varied EP overall, 'Think or Be' is very strong in places. Showcasing how good they can be and teasing where they will head next.
3/5
'Think or Be' EP by TailBlock is out now.
TailBlock links: Facebook | Instagram
Words by Ian Kenworthy (@WhisperingSand)