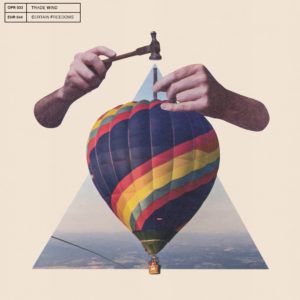 Juggling a side-project around main band commitments isn't easy. More often than not resulting in a one-time effort, so it's great to hear Trade Wind have found time to not just re-group, but produce a second full-length album; 'Certain Freedoms'.
The brainchild of Jesse Barnett (Stick to Your Guns) and Tom Williams (Stray From The Path), they previously explored a different sonic spectrum, building songs around gentle swirls of guitar effects and sung vocals. This time around they're treading more experimental ground, giving up the huge choruses and instead doubling down on atmosphere, creating a tonally different album. It's more relaxed and nebulous than you may expect.
Williams has a deep love of effects pedals and it's key to the band's sound. His wash-like soundscapes provide flow and depth, but they're thoughtfully executed. Even the slightest adjustment to what he plays tugs at the heartstrings. The rhythm section too, particularly drummer Andrew McEnaney, is important, carefully shaping the album's direction. You can't fault the masterful way they play together and you can hear the beauty in the tranquil seas of subtlety they create.
Keeping everything ruthlessly short means it's a focused record, but you're left wishing they explored a little more, especially on songs like 'How's Your Head' which begins fading out before it's really got going.  At its best, 'I Can't Believe You're Gone' captures your attention by marrying a beautiful melody within its sweeping soundscape. Similarly, the louder 'Close Encounters (of the 3rd Floor)' excellently plays with fuzz and a muted yell, accentuated by an enormous swirl of a chorus, its soft-centred shoegaze and spine-tingling execution.
'Certain Freedoms' is an exploration of sonic space, and while you may miss the straightforward honesty of their earlier work, Trade Wind play with a tapestry of sounds both alien and beautiful to create a strange, ethereal record. While it doesn't entirely satisfy, it feels like a solid evolution of what this project can be.
3.5/5
'Certain Freedoms' by Trade Wind is released on 26th April on End Hits Records / Other People Records.
Trade Wind links: Website | Facebook | Twitter | Instagram
Words by Ian Kenworthy (@WhisperingSand)