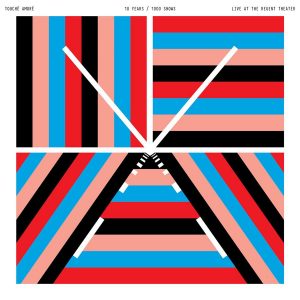 It's somewhat remarkable for any independent band to stay together for a decade, especially with the common notion that a lack of sales and touring cost can make it difficult for a band to survive. Nevertheless, that's what Touché Amoré achieved this past February. And ideally, they've marked it with this live record.
Taking place in their hometown of Los Angeles, '10 Years…' serves as a celebration for all what Touché Amoré have accomplished over the past decade. Over the course of 27 tracks, the set picks out from their deep discography of albums, EP's and splits; collaborations with La Dispute and Self Defense Family are given the full live treatment.
For anyone who has witnessed, Touché Amoré live in recent years will know how much of a sonic force they have become, and thanks to Kurt Ballou's mixing, '10 Years…' perfectly captures the quintet at their most ferociousness. Throughout, guitarists Nick Steinhardt and Clayton Stevens and bassist Tyler Kirby provide urgency with stirring drives and ringing harmonies. While Elliot Babin's dense drum work is feverish (see 'Cadence') and is impossible to ignore. Then there's Jeremy Bolm. For 10 years he's been pouring his heart out. On here he is humble yet that doesn't deter him from delivering a thoroughly impassioned performance. On songs such as 'Art Official', 'Harbor', and 'Is Survived By', his throaty screams are delivered with pure conviction.
Even though emotional numbers such as 'Just Exist', 'Flowers and You', and 'Palms Dreams' appear, one of the most touching moments is when a sentimental Bolm addresses the crowd. He explains how the band's early work was about how he didn't like L.A. and now he's learned it's "the best place ever".
The sold out crowd cannot be forgotten. From filling in on vocals to overwhelmingly showing their appreciation throughout, it's clear this was a special night for all in attendance.
Whether this a good introduction to TA is left for debate. Nevertheless, '10 Years…' highlights them at most effective.
4/5
'10 Years / 1000 Shows – Live at the Regent Theater' by Touché Amoré is released on 2nd November on Epitaph Records.
Touché Amoré links: Website | Facebook | Twitter | Instagram
Words by Sêan Reid (@SeanReid86)