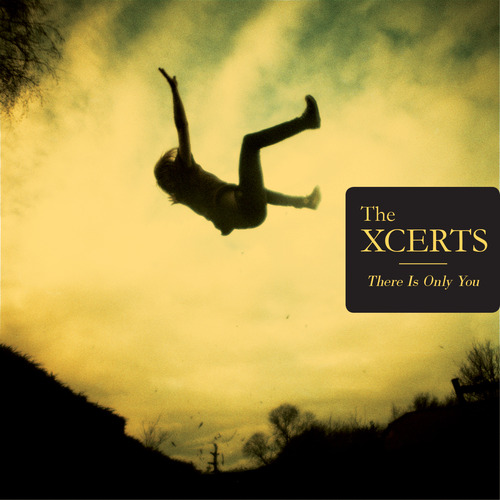 To say this album was "long-awaited" is a severe understatement. After 'In The Cold Wind We Smile' and 'Scatterbrain' were released in 2009 and 2010 respectively, it was at a free show in the winter of 2011 that I discovered The Xcerts. I have been waiting for 'There Is Only You' ever since. The opener '2.12.12' keeps you waiting just that minute longer with its peaceful guitar, soft keys and building strings. Although peaceful there is a sense of wistfulness within the strings with that deep undercutting cello.
The subsequent track 'Live Like This,' dramatically bursts through; 'somebody bring me back, somebody bring me back to life'. This works in conjunction with the previous song, wanting to escape this sorrowful state. Lead vocalist Murray Macleod puts this feeling down to 'then-recent experiences with anxiety' and the dramatic manner in which he tackles this. It is a strong start to the album and is one that certainly grabs your attention. 'Shaking In The Water' begins in a similar fashion, its verse complimented by harmonies for added depth. The chorus is severely catchy and is littered with guitar tones typical of The Xcerts previous albums; a classic breakdown and outro is pleasantly featured.
The band has matured perfectly in their songwriting ability and has grown significantly in four years. Particularly noticeable is the track 'Pop Song' with its blend of pop and rock elements. Drummer Tom Heron provides the pop drum beat while Macleod and Jordan Smith provide the heavier strums. It's refreshing to hear a UK band trying something new and managing to pull it off. This fresh blend is what makes the album such a major breakthrough. Despite such a successful end product, it has been a struggle to reach this point with Macleod perforating an eardrum and splitting up with his long-term partner ten songs into the songwriting process.
Following this relationship split was the creation of the tracks finale 'There Is Only You'. Macleod admits that it "should have been a triumphant ending to the album" but now "there's a real sadness to it for me" despite this he reflects that it is "a pretty beautiful way to remember someone," and I can't help but agree as he screams the last lines of the album. However, the band insists that despite this context the album was supposed to be able to fit a universal context that is relatable to the listener whether it is about a pet or religion.
This album was a long wait but dear me, was it worth it. The craft is beautiful and is hard to fault nearly anywhere. Hopefully this will be the album that finally catapults The Xcerts in to the mainstream success. This is an album that is a godsend for old fans and a breath of fresh air for those who are yet to discover the beauty that is The Xcerts.
4.5/5
'There Is Only You' by The Xcerts is out now on Raygun Records.
The Xcerts links: Website|Facebook||Twitter|Bandcamp
Words by George Isaacs (@TryGeorgeIsaacs)