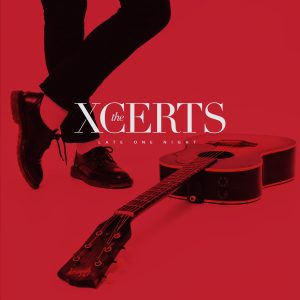 At the start of this year, The Xcerts released 'Hold On To Your Heart', an album that prided itself on delivering summery, heartfelt hooks. Now as the dark nights draw in, the trio have taken five cuts from 'HOTYH' and give them the stripped-back treatment.
Recorded in one night, hence the title, this five-song set has a comforting organic feel compared to its radiant counterparts. 'Daydream' eases in with intimacy and warmth as Murray Macleod's words are hushed rather than sung out loud. It's a credit of Macleod's songwriting to be able to turn songs such as 'Daydream', 'Feels Like Falling In Love' and 'Hold on to Your Heart' from adrenaline-rushing anthems into compassionate and bittersweet gems.
Soft acoustic guitars on 'Feels Like Falling In Love' allow Macleod's words to be honed in delicately. Whereas 'Hold on to Your Heart'  is truly stripped back with a simple drum beat, twinkling guitar strums and Macleod's vocals. It sums up the overall tone of the EP; wholesome yet impressionable.
Admittedly on first listen, the inclusion of 'Cry' and 'The Dark' is questionable. Both were already pretty stripped back yet the intimate environment that threads 'Late One Night' together fits them perfectly. Macleod's fragile vocals and slow pace are compelling. 'Cry' especially pulls at the heartstrings.
Like a lot of "reimagined" releases that we've seen recently, 'Late One Night' is unlikely to draw in an abundance of new fans. Nevertheless, for those who adored 'Hold On To Your Heart', this is a gentle, heartfelt reminder of its lyrical prowess.
The Xcerts have a history of showing their softer side with conviction. 'Late One Night' is another example of this. It's a mellow release that compliment one of the year's best albums, highlighting their songwriting brilliance…  just as we start thinking about our end-of-year lists.
3.5/5
'Late One Night' EP by The Xcerts is released on 5th October on Raygun Records.
The Xcerts links: Website | Facebook | Twitter | Instagram
Words by Sêan Reid (@SeanReid86)