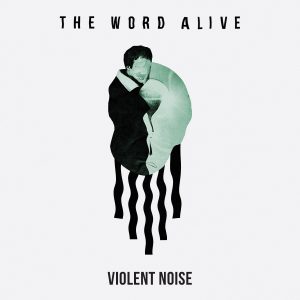 Reduced from a quintet to a trio since the release of 2016's 'Dark Matter', Tyler 'Telle' Smith, Zack Hansen and Tony Pizzuti again partner with that record's producer Matt Good (Asking Alexandria, From First To Last) for 'Violent Noise'.
As has been widely pointed out, the fifth studio album from The Word Alive marks a decade since the Arizona band's genesis. As with the line-up, their sound has changed and developed over the years, but whether or not that process can be called true progression with the release of 'Violent Noise' may be a different matter.
Things start promisingly enough with 'Red Clouds' and 'Why Am I Like This' hitting their stride at just the right moments; both well-structured, melodically engaging and offering hope that the rest of the record will be as memorable.
That hope proves to be rather short-lived. The bewildering preoccupation of metalcore groups with cramming as many guest spots as possible onto their albums is embodied by rapper Sincerely Collins on 'Human' and Asking Alexandria's Danny Worsnop on 'Stare At The Sun'. Worsnop is the best thing about the latter, a ponderous, tiresome attempt to go big that prompts a swift reach for the skip button.
'Stare At The Sun' aside, the album's first half is certainly its strongest, with 'I Fucked Up' and 'War Evermore' striking a successful balance between heart and heavy, without expanding much beyond that.
The closest thing to expansion is 'I Don't Mind''s driving hard rock, but its chorus isn't any better than Foo Fighters filler. Resorting to cheap and easy tricks such as employing "woah-oh" choruses aplenty permeates 'War Evermore' and 'Run Away', betraying a creative dearth.
While there are short bursts of zeal on 'Violent Noise', there isn't much here to warrant anything more than a quick look at the handful of tracks that are above average. It is certainly not a record likely to define The Word Alive or shape their future work.
2.5/5
'Violent Noise' by The Word Alive is released on 4th May on Fearless Records.
The Word Alive links: Website | Facebook | Twitter | Instagram | Soundcloud
Words by Peter Stewart (@PeteStew_)