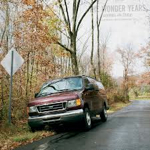 It's easy to be sceptical about records like this one. 'A Collection of Songs…' reads to many as "not an album, it's not good enough to be an album" and to others as "you've got these already but hey, shiny new packaging." Often for bands, a song for a split or an EP might be sub par, something cut from an upcoming album, but for The Wonder Years this is certainly not the case with many fan favourites coming from these shorter releases and 'Sleeping On Trash' provides a simple way for fans to get hold of them.
The opening four tracks of this record, for example, represent the full track list of the band's 2008 EP 'Won't Be Pathetic Forever'. These tracks are Wonder Years classics, live staples and perhaps the most Tumblr gif'd of the back catalogue. It has but two problems: people will often not go out of their way to buy a four track record and, being incredible and just four tracks long, it requires a lot of repressing the play button. With fourteen more brilliant songs to follow both problems are solved.
Throughout 'Sleeping On Trash' the discography feel is maintained, with tracks grouped together into their appropriate releases. Following 'Won't Be Pathetic Forever' come the two tracks from the 'Distances' 7″, a split record released with UK band All Or Nothing. These two tracks, 'An Elegy For Baby Blue' and 'Don't Open The Fridge' keep up the tempo, two pop-punk gems that do deserve the wider recognition this release will certainly bring them.
Not long back The Wonder Years released a video for 'Living Room Song', proving to people that they can do acoustic songs just as well as they can do pop-punk anthems and 'Christmas At 22' is proof that they've been doing it for a while. 'Leavenhouse. 11:30' was originally released on a super limited 7″ with 'The Upsides' album and I doubt anyone lucky enough to own the original will be sad about its inclusion because this is another song that fans and haters alike need to hear – a perfect slice of emotional gold set to destroy lungs to the tune of raucous sing-alongs.
The tracks from the band's 2006 split with Bangarang prove again that although their earlier songs were certainly a little sillier than those they've written since, they were and still are damn good songs. Sure, the songs The Wonder Years wrote 6 years ago aren't quite as good as those that have been released more recently, but they're great regardless – simply evidence that this band can continue raising their game. Plus, there's a five-minute pop-punk ballad about the death of Steve Irwin in here and that alone is surely worth your hard-earned cash.
Next up is covers, beginning with the bands absolutely blinding take on 'Cheap Shot, Youth Anthem' by Kid Dynamite from the 'Carry The Torch' tribute record. Well worth its inclusion for several reasons – one being that it's an excellent cover of an excellent track. Another is that hopefully some of the Wonder Years fans who have never heard of Kid Dynamite and never heard this cover for that reason will rush out (to the internet) to pick up their records.
The record ends on original demos from the very early days of the band. Two tracks ('Buzz Aldrin: The Poster Boy For Second Place' and 'I Fell In Love With A Ninja Master') were released on 'Get Stoked On It' and could feel like a cheap inclusion to round things off. Given that 'Cowboy Killers' completes the bands much sought-after early demo, however, it seems a fair close. Not to mention that the album tracks do remind fans of The Wonder Years' first album, a record perhaps gathering dust in the wake of the now genre-defining 'The Upsides' that there were days back in the summer of 2008 that they refused to listen to much else.
This is an excellent collection of genuinely sought-after songs tied together with many easily accessible yet absolutely fantastic others. To have them all in one place may for many be simply a convenience, a way to avoid having to play a single compilation track before finding an album. For others, 'Sleeping On Trash…' will hopefully provide a quick route to brilliant songs ignored in the shadow of stunning full-lengths. Either way, if you like The Wonder Years, you'll want this record. If you like pop-punk you'll need The Wonder Years and 'Sleeping On Trash' would be a good place to start.
4.5/5
'Sleeping On Trash: A Collection of Songs Recorded 2005-2010' by The Wonder Years is out 12th February on No Sleep Records.
The Wonder Years links: Website|Facebook|Twitter
Words by Tom Knott (@nounandthenouns)