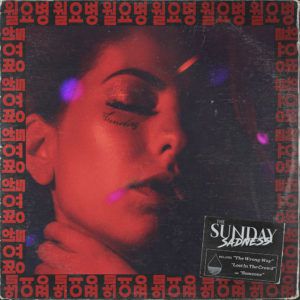 While pop culture has always drawn on the past, right now, wherever you look there's a real nostalgia for the 1980's with films, TV shows and a resurgence of the 80's pop sound being just a few examples. Enter Bordeaux four-piece The Sunday Sadness and their self-titled EP; an ambitious and eclectic collection of songs with synth-wave at its heart.
Over the seven tracks the band are asking the question; What if My Chemical Romance era bands made dark pop? The fusion of these two sounds results in distant, almost robotic, music infused with a heartfelt singing style. It's a powerful approach. For instance, the beats of 'The Hunger' contrast with a great vocal hook Craig Owens and his ilk would be proud of. Of course, it's all smothered with effects, but that's part of the aesthetic. Reverb, gated drums, it's all there, but there's more too and that's where The Sunday Sadness succeed.
While single 'Someone' could have started life as a cover version of New Order's 'True Faith' on subsequent songs they bring more to the table. 'Damn I Hate It' even draws on 90's dance music, putting them alongside bands like The Black Queen or Gunship who are really pushing this sound.
According to vocalist Matthieu Kirby, they tried a "thousand different arrangements" for these songs, and it really does feel like they've pushed themselves to create immersive and interesting soundscapes. Just listen to the contrast of plodding beats and brighter synths on 'High Beam'.
At times, they don't succeed quite so well. Particularly the awkward rap on 'Sad Songs' which is unintentionally hilarious, or the uncomfortable intro to 'The Wrong Way', although you can't fault the massive chorus that follows it.
Overall, the EP is a surprisingly good merger of 80's synth-pop and the mid-2000's post-hardcore scene, The Sunday Sadness may be looking back, but they're pushing forward and, despite some unusual choices, it's an enticing mixture.
3.5/5
'The Sunday Sadness' EP by The Sunday Sadness is released on 15th February.
The Sunday Sadness links: Website | Facebook | Twitter | Instagram
Words by Ian Kenworthy (@WhisperingSand)