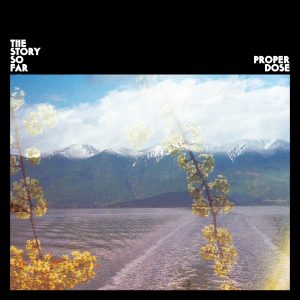 On their 2015 self-titled album, there were clear signs of burn out for The Story So Far. Although it marked growth in their songwriting, it stylistically lacked in progression. So after a much-needed break, their fourth full-length, 'Proper Dose', marks a new start for the Walnut Creek quintet. Although don't be fooled to think this a stark departure. There's still a nous for memorable melodies and an underpinned pop-punk charge (see 'Out Of It'), yet there's a willingness to expand their sound pallet.
With names such as The Beatles and Oasis being cited as influences in the lead up to its release, it's clear TSSF's creative conscious has expanded. For example, 'Take Me As You Please' is a melancholy-soaked, acoustic-led number with a breezy (and pleasing) delivery. Whereas 'Upside Down' embraces sensible pop hooks with pleasing, mellow delivery.
Throughout, there are hints of musical growth; semi-interlude track 'Line', weaves in before 'Growing On You' provides a late highlight. Sonically atmospheric, it's maintained by harmonious vocals and evocative drum work from Ryan Torf, firmly marking a willingness to evolve. Nevertheless, 'Proper Dose' is a record that ebbs and flows stylistically.

'Let It Go' bridges the past with the present; Parker Cannon's confrontational lyrics being countered with an explosive, vibrant, and playful chorus. Cannon's refined and rapid delivery makes a return on 'If I Fall'. Likewise 'Need To Know' begins with a sense of familiarity; a stomping, anthemic punk tempo that is pulled back during the harmonious chorus.
'Light Years' ideally ties it up with subtle reverb guitars complimenting Cannon's distinctive voice. It's a fitting conclusion to a record that takes subtle risks, yet doesn't entirely abandon the core sound that has put TSSF in such a lofty position.
Undoubtedly, 'Proper Dose' marks an upwards turn for a band with one foot out of the confines of pop-punk. It leaves them in a promising position, but whether or not fans will follow is yet to be seen.
3/5
'Proper Dose' by The Story So Far is released on 21st September on Pure Noise Records.
The Story So Far links: Website | Facebook | Twitter
Words by Sêan Reid (@SeanReid86)