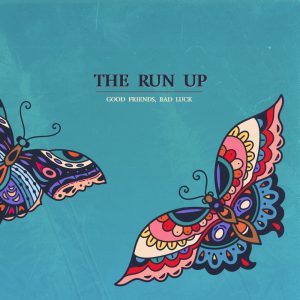 Bristol punks The Run Up return with new EP 'Good Friends, Bad Luck', a five-track eulogy to their time on the road promoting last year's self-titled album. Stylistically, the band hasn't changed much since their 2014 debut EP; everything here is just so much more assured. Confidently opening with a few fleeting guitar solos, 'Good Friends, Bad Luck' sets the stage; it's an impressive showing of their honed songwriting skills.
Keeping the DIY ethos intact, recording took place in a mixture of studios with Ben Turner handling production. It's worked well, capturing a lively powerful tone, which acts as a counterpoint to the wistful lyrics. Similarly, sound engineer Dave Boothroyd really captures the idiosyncrasies of Harry Holder's drumming, a keystone to the band's sound. By never playing quite what you expect, Holder keeps everything fluid, an underpinning to the songs' direction. Without him, nothing here would be so effective.
Despite Laurence Nelson and Charlie Parson's bright guitar lines, there's a real melancholic air to this EP. You'd never call Larry Bernard a good singer with his dirty old punk voice (a smoky, boozy drawl) but he can hold a tune, especially on 'Etherial Ghost'. His vocal stylings sit on a spectrum between Funeral Shakes and the Star Fucking Hipsters. Not bold, or with powerful hooks, but effective. Combined with the warmer guitar lines on 'The Upside of Being Down', he even manages to evoke autumn. Backing vocals appear liberally throughout the runtime, adding an almost whimsical air. However, nearly every word on 'Captain' is echoed, like a pub full of drunks is trying to sing along. The voices rise when Bernard's is falling, undermining the sadness he transmits elsewhere. It quickly becomes tiresome, a shame as the song contains some arresting guitar work, only rivalled by the harder licks on highlight 'Sick Days'.
The Run Up's work ethic has paid off. 'Good Friends, Bad Luck' works as both a bright punk record and emotional ode.
3.5/5
'Good Friends, Bad Luck' EP by The Run Up is released on 28th September on Real Ghost Records and Uncle M.
The Run Up links: Facebook | Instagram | Bandcamp
Words by Ian Kenworthy (@WhisperingSand)