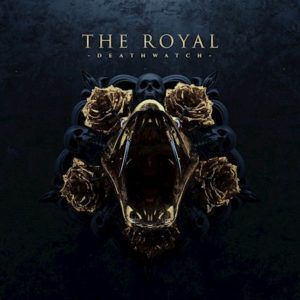 Upon its 2017 release, The Royal's second full-length 'Seven' made serious waves for the Eindhoven quintet, as they stormed their way across Europe and the UK with the likes of Oceans Ate Alaska, Crystal Lake and The Charm The Fury. Naturally, follow-up 'Deathwatch' has been highly anticipated in the melodic metalcore community.
There was a notable difference between lead single 'Nine for Hell' and anything from 'Seven', which reveals itself throughout 'Deathwatch'. This record's production is notably weaker than its predecessor, with a softer guitar tone delivering softer punches than the likes of 'Wildmind' and 'Life Breaker' did before. This shouldn't detract from the songwriting, but you're left yearning for a more crushing impact upon the double-kick-laden lashing that opens the album on 'Pariah.'
Either way, songwriting-wise, this is a step up for The Royal. Anthems such as 'Savages' references to "the motion of the world as we know it, caught between the bullets and the bombs" rings as a protest against global warfare and terrorism. While 'Soul Sleeper's' depressive analogy of "drowning in my thoughts' and 'sinking further and further" is both eloquent and harrowing.
While the inclusion of keyboard melodies on 'State of Dominance' and 'Exodus Black', with moments of brooding atmosphere sprinkled across the album, offer more substance than the straightforward melodeath of 'Seven'. The latter track works especially well on the title track, when the tense restraint on the verses contrasts from the frenetic chugging of the song's mid-section featuring guest vocals from Crystal Lake's Ryo Kinoshita.
'Deathwatch' will likely be a lot of new fans introduction to The Royal, and they'll find enough highlights here to make them their new favourite band. It's just a shame that their step-up in songwriting seems to have come as a trade for heavier production. Ultimately, this record giveth, and this record taketh away.
3.5/5
'Deathwatch' by The Royal is out now on Long Branch Records.
The Royal links: Website | Facebook | Twitter | Instagram
Words by Andy Davidson (@AndyrfDavidson)