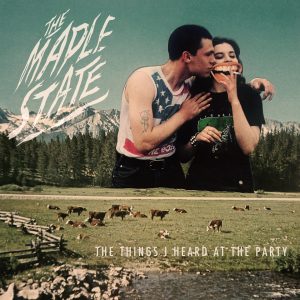 When something is dropped, it can be hard to pick it back up. If you miss a week at the gym, it becomes a struggle to drag yourself there and give it another go. The same applies to bands. Returning after a hiatus risks a dip in quality, while also requiring a constant battle to reclaim old fans and gain new ones. One band returning to the scene is The Maple State, a Manchester three-piece who, after a decade of silence, return with 'The Things I Heard At The Party'.
Though the band may not have the energy they once carried a decade ago, there's a maturity to 'The Things I Heard At The Party'. This is present in both the lyricism and the instrumentation, which carry emotional brevity. Examples include the tongue-in-cheek title track, which retells some colourful snippets of conversation from a Halloween party set to a tight folk riff, to the blues-y 'Sexy Jam', a much more subdued, sensual number that serves to give the album varied pacing.
The sound changes with each track, ranging from a slice of Americana on 'Something in the Water', indie-rock on 'Cold Theatre II (Always You)', and passing by post-punk on 'Winner'. While it's an intriguing blend, it can come off as a band trying to find their feet. After a decade apart, it's unsurprising, but also frustrating. There are glimpses of something great on every track, but as soon as they get close, the band veer off in a different direction.
The Maple State have returned with a satisfactory album that builds on the foundations they lay ten years ago. The music has grown up with the members, who are taking it in as many directions as they can, which needs to be done well to hold up the entire album. It would be nice to hear a sound that's been nailed down, and hopefully, we won't have to wait another ten years.
3/5
'The Things I Heard At The Party' is out now on Far Out Records.
The Maple State links: Facebook|Twitter
Words by Ben Mills (@BenMills28)