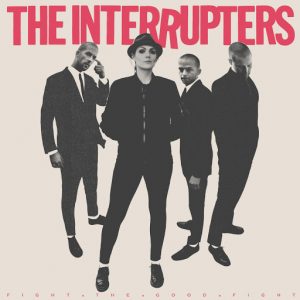 Ska-punk has never been an inherently cool genre, but there's still a number of bands who've been awarded plenty of clout within the scene. There's Rancid, for one, and by association, the acts signed to Tim Armstrong's Hellcat Records, arguably the most prominent being The Interrupters. But as both of their albums up to this point have proven, their status has been down to far more than simply goodwill. They've often proved themselves to be a fairly solid band in their own right.
And while 'Fight The Good Fight' continues with that, it's hard not to think at this point that ideas are beginning to cycle around again. Both their own and those of the ska-punk scene at large. It's definitely what you'd expect from this genre – bouncy horns and weedling organ lines to take emphasis away from lighter guitar work – but with a very Green Day-esque sensibility coming into 'Gave You Everything'. Amy Interrupter clearly tries to emulate Tim Armstrong's slurred throughout, and the comparisons become too close for comfort. It stops feeling like The Interrupters as an individual identity and more of a composite of bigger acts they've earned their stripes around.
That being said, for a bright, breezy and frequently infectious listen, 'Fight The Good Fight' does exactly what it needs to. A big part of this is the sense of community and uplifting gumption that The Interrupters have; 'Title Holder' genuinely feels muscular and energetic as a pump-up anthem, and roping in all of Rancid for 'Got Each Other' makes for an end product that's about as raucous as you'd expect. And with the emphasis on simplicity all the way through, 'Fight The Good Fight' remains a consistently entertaining listen, albeit a familiar one.
It is possible to look past that familiarity overall though, given that, as a band, The Interrupters play with solid enough hooks and melodies to just about eke out a pass. Sure, you'll likely have heard most of this elsewhere, and when placed in context with its genre, it can fall back. But for easy, accessible fun, 'Fight The Good Fight' works well enough.
3/5
'Fight The Good Fight' by The Interrupters is released on 29th June on Hellcat Records.
The Interrupters links: Website | Facebook | Twitter
Words by Luke Nuttall (@nuttall_luke)