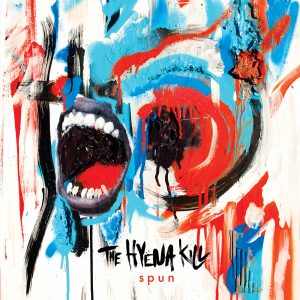 Throughout the history of rock, there has been a range of duos. Some influential and some forgettable. In recent years, Royal Blood has taken the mantle of being the premier rock duo. However, they should be peaking over their shoulders as Manchester's The Hyena Kill aim to join the ranks of noteworthy rock duos.
Since forming in 2012, vocalist/guitarist Steven Dobb and drummer Lorna Blundell have honed in on their sonically satisfying brand of rock. While 2016's debut full-length outing, 'Atomised', set a personal benchmark, 'SPUN' has all the markings of a band on the rise.
With a strong opening coming in the form of 'Exit Mask', it's an assured slice of melodic noise rock with Dobb supplying thrashy riffs and impassioned vocals, while Blundell ties down its ferocious tempo. The suitably titled 'Panic Womb' follows – a chaotic 80 seconds with Dobb's manic vocals clashing with Blundell's relentless pounding.
'Ribbons' reigns things in as the duo embrace slow burning intro before overdriven guitars and dynamic erupt. In its bridge, Dobb's vocals are reminiscent of Chino Moreno of Deftones, a clear influence on The Hyena Kill. Later on, the ethereal delivery of 'Dare To Swim' sees the duo add depth and variation to their urgent, riff-heavy noise rock.
'Pound of Flesh' is carried with swagger. Dobb's swelling riffs and slightly husky vocals are supported by solid drum work, making it one of the standout moments. Likewise, when paired up with 'Exit Mask' and closing track, 'Cells', you realise the amount of potential The Hyena Kill have. The latter is a brooding, angst-filled finale that ends the EP as it started – on a high note.
Threaded together by appreciative rawness, 'SPUN' doesn't outstay its welcome. The Hyena Kill have refined their sound while showing a willingness to take stylistic risks. They're certainly not a name to be ignored.
4.5/5
'Spun' by The Hyena Kill is released on 23rd April on APF Records.
The Hyena Kill links: Website | Facebook | Twitter | Instagram
Words by Sêan Reid (@SeanReid86)