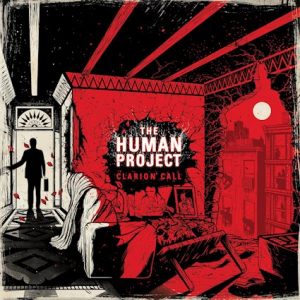 Five years is a long time for any band to leave between releases. But that's just how long it has been since The Human Project unleashed their debut album 'Origins'. A breathless mix of fast technical punk laced with melody. So, what took them so long to create follow-up 'A Clarion Call'?
Opener, 'Desperate Times', provides a false sense of security with a minute of ambience, a further minute of gentle singing,  and then a noodly guitar lick before rounding out the three-minute song with a furious battering of drums and guitars.
Ah, that's what they've been doing, crafting.
Yes, The Human Project excel at speedy punk, but it's the way they deploy those galloping drums and shredding guitars that works so well. Used sparingly, throughout this remarkably solid record. It's fast, it's fun but carefully thought out.
All three members, Jonny Smith (guitar), Luke Yates (guitar) and Joe Dimuantes (bass/drums), share vocal duty, something that they pull it off brilliantly. Never disjointed, they compliment whoever is leading with harmonies, yells and screams. Similarly, the guitar work is technical, but never takes the focus away from the songs themselves. Each is different, but part of a whole. Only 'Desperate Measures' features an outro, but when it's that big, why do another?
Lyrically, the album has political overtones. Notably, lead single 'That One Percent'  spits bile directly at the Tory Government and then becomes a tirade of yells. It's the most aggressive song here. Yet, it's followed by 'The Rhetoric'  which contains the most accessible vocal hooks, calling and responding to the question 'Who pulls the strings?' Six songs in interlude 'Carrion' breaks things up, sounding like a sing-song in a canning factory. 'What We Always Do', perhaps the most ambitious song on offer, showing off what the band can really do, before 'Blame' adds an almost pop-punk feel to its presentation. Suddenly 32 minutes have elapsed and closer 'A Clarion Call', is asking  "Are we still dangerous?"
Yes, yes they are.
4/5
'A Clarion Call' by The Human Project is released on 6th July.
The Human Project links: Facebook | Twitter
Words by Ian Kenworthy (@WhisperingSand)