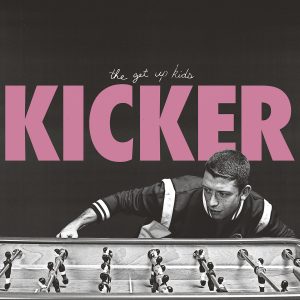 Depending on who you ask, The Get Up Kids are one of emo's most influential names. While 1999's critically acclaimed second full-length, 'Something to Write Home About,' has been of the genre's most beloved records, their output and activity since then has been mixed. Nevertheless, the prospect of new material in 2018 is still exciting. 'Kicker' marks the quintets first release in seven years, and while 2011's 'There Are Rules' LP headed in a post-punk direction, the four songs on here are certainly a return to form.
'Maybe' pounds its way in with fuzz-ridden guitars dripping and Matt Pryor's vocals complimenting its upbeat tempo. As he declares "need you to carry me," Pryor's delivery radiates with honesty.
Having all experienced their ups and downs as they collectively enter their forties, TGUK are able to combine their ageing experiences with a favourable pop sensibility. For example, 'Better This Way' focuses on accepting the way things are and not forcing change. While Jim Suptic shares vocal duties with Pryor, who chips in with "oh oh oh's" against a well-round backdrop of surging guitars and heavy piano keys courtesy of James Dewees.
On 'I'm Sorry,' TGUK have produced one of their best moments since the underrated 'Guilt Show' LP. With punching drums and an infectious as f*ck chorus, it's a delightful slice of arena-sized emo rock.
'My Own Reflection' rounds off the EP with Dewees' keys guiding the gradual build alongside Pryor's familiar crescendo as he sings "anyway I didn't want to be the topic of conversation." While the sibling pairing of Rob Pope (bass) and Ryan Pope (drums) hold down a tight rhythm section, providing a thick undertone.
'Kicker' is an all too short reminder of The Get Up Kids' greatness. Insatiably fun and addictive, the Kansas five-piece have embraced a carefree approach with renewed vigour. Let's hope we don't have to wait seven years for more material as this is too good to be forgotten.
5/5
'Kicker' EP by The Get Up Kids is released on 8th June on Big Scary Monsters (UK) / Polyvinyl Record Co. (US).
The Get Up Kids links: Website | Facebook | Twitter | Instagram
Words by Sêan Reid (@SeanReid86)