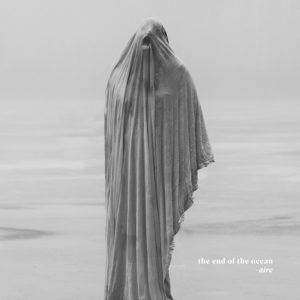 The End of the Ocean are in no hurry. New album '-aire' arrives a few days into 2019, making it seven years since their previous release, EP 'In Excelsis'. It shows. Time spent fighting demons, learning each other's strengths and simply existing has provided a rich seam of inspiration for their post-rock sound.
Billed as an angrier, cathartic, yet hopeful record, '-aire' presents huge swelling soundscapes with forays into more traditional rock-inspired passages. With no underlying theme, each song is a separate piece. Hence, guided by producer Mike Watts, the band are free to explore. This is, perhaps, the record's limitation as the results sit comfortably in a cohort with Explosions in the Sky, but when the five-piece push themselves the results are fantastic.
With an album cover depicting a grey, shrouded and screaming ghoul, the band are keen to endorse the anguish of their work. With no vocalist to directly express emotion, the music works hard to make you feel, be it through the cold lonely opening of 'Self' or the bright final note of 'Redemption' ringing out with hope. Such contrasts are used to great effect, with the warm friendliness, and powerful drumming of 'Jubilant' providing a counterpoint to the gentle guitar parts and carefully swelling synths of 'Homesick'. Similarly, angst rears its head both when 'Forsaken' takes us into the heavier territory or when the beautiful 'Redemption' is angrily smashed apart by drums.
Having spent the better part of a decade playing together, it's no surprise the band complements each member's playing style. This is heard most prominently on the brilliant 'Desire' which is expansive yet held in focus by Tara Mayer's repeating piano riff. Elsewhere, especially on 'Bravado', the guitar riffs are carefully buried but never quite become lost, building tension while adding drive. This interplay provides depth, meaning even at their most raucous the songs remain carefully flavoured. This devotion to subtlety and atmosphere turns '-aire' into both a delicate and arresting listen.
3.5/5
'-aire'  by The End of the Ocean is released on 18th January on Rude Records / Equal Vision Records.
The End of the Ocean links: Twitter | Website | Facebook
Words by Ian Kenworthy (@WhisperingSand)