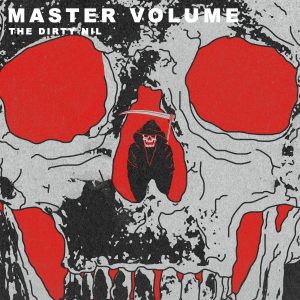 For those who heard The Dirty Nil's 2016 effort, 'Higher Power', then you'll know it was one of the year's hidden gems. With its straightforward and thorough execution, the Canadian trio delivered an enthralling set of raw rock 'n' roll songs. In the eighteen months since its release, they've toured rigorously, sharing stages with The Who and Against Me!
As they their return with 'Master Volume', the Hamilton-based band aim to step out of the basement and on to bigger stages, delivering an abundance of bold, fuzz-laden rock songs. However, don't think they've gone down the "made-for-radio" route as 'Master Volume' is a strutting, steamroller of a record.
Bookended by a wall of distorted feedback, straight away 'That's What Heaven Feels Like' sets the marker with Luke Bentham's yells of "rolling through the windscreen" and blazing guitar solo. 'Bathed In Light' and 'Pain Of Infinity' are early highlights that are soaked in swagger and irresistibly catchy hooks. Whereas 'Please, Please Me' is a punk-fuelled romp before they slow things down with 'Auf Wiedersehen'. A reflective, twisting number that sees Bentham's aim his angst to a former friend and he howls "I mean this in a nice way: Fuck You."

Even though 'Master Volume' is a tour-de-force of rock 'n' roll, a deathly cloud shadows over it. Throughout Bentham's words take a dark turn; fantasising about car crashes ('Bathed In Light'), directly addressing former friends to frankly get their shit together ('I Don't Want That Phone Call') and staying at cheap motels ('Super 8′). Although Bentham's occasionally plays up the rock star persona, the rhythmic duo of drummer Kyle Fisher and bassist Ross Miller ideally keep it all tied down. It makes for a captivating, fun record that leaves you wanting more than the half-hour provided.
The Dirty Nil have once again delivered a stellar record. 'Master Volume' organically sees the trio head in the right direction, embracing big choruses, thrilling riffs and a compelling energy.
4.5/5
'Master Volume' by The Dirty Nil is released on 14th September on Dine Alone Records.
The Dirty Nil links: Facebook | Twitter | Instagram | Bandcamp
Words by Sêan Reid (@SeanReid86)