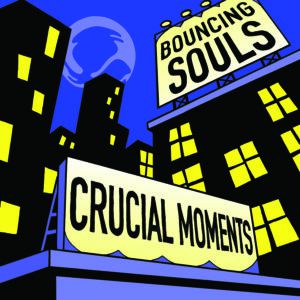 30 years is an impressive milestone for any band to consistently perform together for, especially when it comes to the longevity of classic pop-punk. Therefore, 'Crucial Moments' is by far one of the most touching sentiments to The Bouncing Souls' prolific career. Released in conjunction with a nostalgic photobook documenting their humble beginnings as teenagers ready to take on the world, to their 2016 LP 'Simplicity', this six-song EP feels like more than just an intermission between albums.
From the get-go, the title track once again is a testament not only to frontman Greg Attonito's ability to belt out memorable choruses, but also Will Yip's ever-malleable, blaring production values. With so many hits to choose from their iconic shows, you can already tell this anthem tugs at your heartstrings comfortably with classics such as 'True Believers' and 'Manthem'.
Whilst they might not be intentional, there are notable stylistic similarities on '1989′ and 'Favourite Everything' to that of H20 and Descendents.  Rather than opting to delve into staying true to the spirit of punk rock or the ravages of ageing, The Bouncing Souls stick to what they know best; high energy melodic hardcore chunks intertwined with wholesome comradery.
'New New' in equal measures is a love song highlighting the uplifting strength of relationships, as well as how Souls' music has helped fans through dark times in their lives, and vice versa with their loyalty; "Well live to tell our story, of how we claimed our glory, we have the strength and power in our darkest hour." The closer 'Home' slows the pace down into sweetened 00's power pop territory. The wailing, crisp guitar leads and drummer George Rebelo's thumping rhythm section nicely rounds off the band's triumphant celebration.
The memorabilia alone is worth fans getting excited over, however 'Crucial Moments' makes you want to cherish the best moments in your life. Once again, The Bouncing Souls continue to push the envelope of making inspirational, generation-spanning punk rock.
4/5
'Crucial Moments' EP by The Bouncing Souls is out now on Rise Records.
The Bouncing Souls links: Website | Facebook| Twitter | Instagram
Words by Ashwin Bhandari (@GIVEUPOX17)