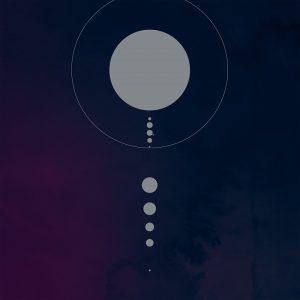 Over the past eight years, Tesseract has become one of the most influential names within progressive metal. Throughout this time they have inspired and bolstered the djent scene explosion. Although, due to a revolving door of vocalists, this fourth outing, 'Sonder', is only the first record to consecutively feature the same line-up. Despite this, it comfortably searches through what they've done in the past and finds ways to make it feel new and exciting, without the feeling of treading on old ground.
Stunning opener 'Luminary' is an exemplary track that catches the band on top form. Thick, cyclical riffs, beautiful vocal melodies and complex rhythms collide to make a striking piece, with an infectious chorus in Tompkins' yelling "Are you alone?" It takes a little bit of everything they've excelled with in the past, and pushes it up a notch.
'Beneath My Skin' is another song that feels like a direct evolution of older material. Building on the tense, atmospheric nature of 2013's 'Altered State', highlighting their knack for arrangement and deeply textured metal. The guitars sound huge, while the vocals effortlessly shift from gentle to powerful. 'King' builds on some of the more aggressive, longer-form music of the past, compressing it into a tight, poetic track. The lyrics are at their most vivid, and charismatically delivered.
One of the brightest moments comes in the shape of 'Smile', (significantly reworked from the single version) which takes the band to a darker place than we're used to. Anxious basslines and commanding vocals are followed up by ruthlessly disorienting riffs, and some brilliantly produced vocal flashes stretches the unease further. It's a pacing, hulking beast of a track, effortlessly proving Tesseract still have plenty of tricks up their sleeves.
It's a relatively short album (it clocks in just over half an hour), but they finally sound comfortable with their line-up, overcoming the growing pains of 2015's 'Polaris' to reach a quality that lives up to the hype of what came before. It's efficient and methodical, but it pays off as they explore their gift for exciting, innovative prog rock.
4.5/5
'Sonder' by Tesseract is released on 20th April on Kscope.
Tesseract links: Website | Facebook | Twitter | Instagram
Words by Sam Seaton.