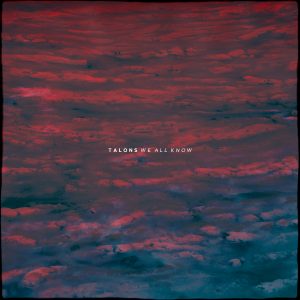 It says a lot that Talons managed to win over even non-post-rock fans with 2014's 'New Topographics'. Then again, it's not exactly surprising, given the layers and eclecticism that album had compared to their peers, driven by twin violin lines and unmistakable world music influences. It leads to an album with a distinct, engaging personality, something that's become more and more of a rarity in instrumental post-rock.
It's clear how much of that has gone into 'We All Know' too, this time with the sextet branching out even further and embracing a whole myriad of new styles. This alone is a major cornerstone of why it works so well. The ethereal 'Southern Shade' is a far cry from the building maelstrom of 'Movements On Seven', yet Talons are still able to find ways in which each disparate piece can play off each other for a bigger picture. It's definitely fragmented at points, but it's frequently enrapturing without ever simply falling away into the background.

Although ambitious, it doesn't always pan out. Just take the opening duo of 'The Drowning' and 'On Levels', a pair of thuddingly overweight riff-rock tracks that are totally divorced from the limber, lucid atmosphere that post-rock really needs to work. This is done exponentially better later on on 'Over And Again'. Still, the fact that 'We All Know' manages to recalibrate itself fairly quickly is at least a good sign, and it leaves Talons with an album that, overall, fulfils their broad vision.
And for as blatant as its imperfections may be, there's still a core of accessibility to this album that much of post-rock doesn't have; ditching the lengthy, high-minded suites in favour of much more digestible pieces that still have plenty of room to swell and expand. There's a lot to commend Talons for in that regard, not less because, on the whole, they've pulled it off perfectly well.
4/5
'We All Know' by Talons is released on 27th July on Holy Roar Records.
Talons links: Website | Facebook | Twitter | Bandcamp
Words by Luke Nuttall (@nuttall_luke)