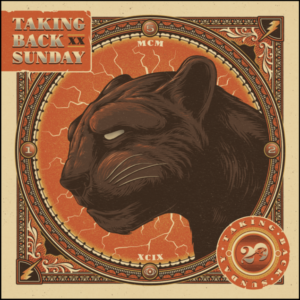 We could start this review by going in deep on how 'Best Of' collections have become a bit redundant in an age of 'Essential…' playlists, but that would take away from the sheer quality that 'Twenty' offers. Coinciding with their 20th anniversary ('Tell All Your Friends' is 17 years old in March), it sees Taking Back Sunday compile 19 of their best moments along with two new cuts.
As expected, a majority of the retrospective tracks are lifted from their first three albums, the period that many consider TBS' creative peak. Songs such as 'Cute Without The 'E' (Cut From The Team)', 'A Decade Under The Influence', 'You're So Last Summer' and 'MakeDamnSure' are bonafide rock club night gems; massive, timeless choruses built around their signature two-man vocal dynamic.
Cramming material from seven albums into 19 tracks isn't an easy task yet 'Twenty' perfectly captures TBS' career so far. Although the band's output since 'Louder Now' has been mixed, the nine songs included are some of the band's best work in recent years. 'Everything Must Go' and 'Better Homes and Gardens' both soar with emotion. 'Call Me In The Morning' swells with tenderness. While 'Flicker, Fade', 'Call Come Running' and 'Faith (When I Let You Down)' is evidence that TBS can still deliver stellar alt-rock hooks.
So what about the two new cuts, 'All Ready To Go' and 'A Song For Dan'? The former is punchy with the familiar trait of Adam Lazzara's lead vocals battling John Nolan's emotive and complementary yelps. The latter closes the collection on a poignant note with its haunting, balladic tone. It may not encapsulate all that TBS are known for yet it's a fine example of their stirring songwriting.
For a band whose influence has constantly grown for almost two decades, 'Twenty' is a concise collection of Taking Back Sunday's best work. It's the perfect nostalgia trip and entry point in equal measure. Either way, it's an almighty celebration.
4.5/5
'Twenty' by Taking Back Sunday is released on 11th January on Craft Recordings.
Taking Back Sunday links: Website | Facebook | Twitter | Instagram
Words by Sêan Reid (@SeanReid86)