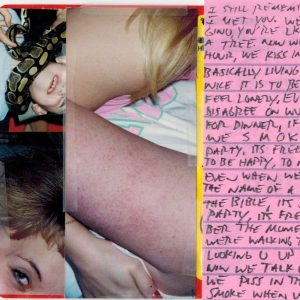 It's impressive that Super American have reached the position where they're able to release a full-length album, particularly when many bands in this vein go unnoticed throughout their usually-brief careers. Last year's 'Disposable' EP was decent, but beyond a few pleasant emo / pop-rock hooks, it wasn't exactly attention-grabbing. 'Tequila Sunrise' gives them a chance to branch out and show what they're capable of in a wider context.
Sadly 'Tequila Sunrise' isn't that album, and any progression that's been made is fairly negligible. It's a low-key listen throughout, driven by what largely feels like acoustic or gentler transpositions of early- to mid-2000s pop-rock. The issue is it can run together fairly readily; a song like 'Estoy Eternamente Lo Siento' especially lacks definition with how distant the vocals feel behind a fairly barebones acoustic and percussion set-up. When it gets too twee like with the produced beats on 'Casino Blonde' or the toothache-inducing acoustics of 'Givin' It Up', more could be done to give these songs some more longevity.
But that feels that's the purpose of 'Tequila Sunrise', serving as a late entry for 2018's lazy, laidback summer album. Play the majority of these songs in a quieter, more restrained moment of 'American Pie' and they'd fit perfectly. It's especially true of more relationship-focused songs like 'Commitment Issues' and 'Hands Down Olivia', both of which capture the quintessentially American ideals of summer perfectly. The overall tone and breeziness feels almost deliberate, and while it's not much more excusable, a bit more thematic resilience in that vein does work.
Overall though, it leaves 'Tequila Sunrise' as an album that's easy to like and appreciate, but difficult to love, even if the generally more ephermal, lightweight execution is the point. At the very least, Super American are making throwback music in a different vein to everyone else, but it'd be nice if it was just that bit better.
3/5
'Tequila Sunrise' by Super American is out now on Take This To Heart Records.
Super American links: Facebook | Twitter
Words by Luke Nuttall (@nuttall_luke)