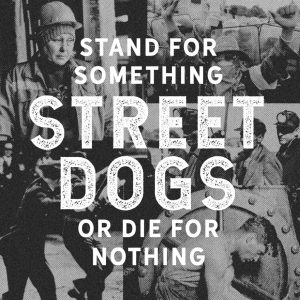 It's been eight whole years since we last heard any new music from Street Dogs in the form of their self-titled album. Now the Boston natives return with their comeback record, and sixth studio album, 'Stand For Something Or Die For Nothing'.
The band are known for expressing heavily politicized ideas and pushing back against the establishment, with this release being no exception. Right from the energetic opening title track, enigmatic vocalist Mike McColgan fires scathing, anti-Trump lyrics in between the sort of chunky sing-along choruses the quintet built their reputation on. Politics are a key theme throughout 'Stand For Something Or Die For Nothing', capturing a pure punk mentality through scornful lyricism, a classic old-school style and a raw, upbeat delivery.
Even the self-production of the record,  handled by bassist Johnny Rioux, has an intentionally retro, fuzzy sound to it. This gives the feel of a record much older than its time. For a band who have had numerous member changes, they haven't really ever lost their sound or fast-paced style either. 'Other Ones', 'The Comeback Zone' and 'Working Class Heroes' are prime examples of this all-embracing, youthful attitude.
The record tones down the angst a little on the likes of 'These Ain't The Old Days' and 'Torn and Frayed', which are sprinkled with a bluesy, southern country feel. Both are slightly softer in tempo and, if we're being honest, don't sit all that comfortably with the rest of the record's full-throttle punk rock.
For a comeback record after a long period out of the spotlight,'Stand For Something Or Die For Nothing' is pretty much everything long-term fans could want. It's not exactly ground-breaking, but it fits well with the band's established blueprint while feeling like Street Dogs haven't been away at all.
4/5
'Stand For Something Or Die For Nothing' by Street Dogs is released on 22nd June on Century Media.
Street Dogs links: Website | Facebook | Twitter
Words by Dylan Tuck (@DylanJTuck)