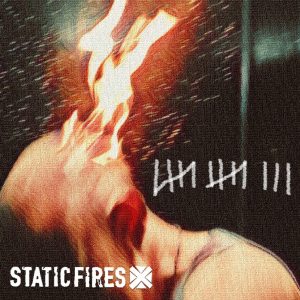 Swansea alt-rock quartet Static Fires have come up with a truly likeable debut album on 'Thirteen'. Boasting eight precision cuts of riff-heavy rock, with a good sense of groove and earworm choruses. The South Wales boys have embraced their influences, yet managed to find a signature sound that gives them a distinct identity in a heavily crowded market.
Despite the clean, post-grunge vibe of 'Rollercoaster' not really setting the world on fire, it is still a well-constructed opener with some cool guitar work that segues nicely into the cool bass groove of 'Black Velvet'. Now here's a tune, with its low slung intensity, killer chorus and smoking solo it ticks all the right boxes and has a great hard rock vibe.

In fact, the overall vibe is one of assured quality, with an air of grungy hard rock between the lines. 'Blood Red', for instance, makes for a great showcase; powered by a badass riff, it drips menace before taking an atmospheric turn that kicks into a frantic heavy rocking finale, great stuff. The driving 'Hit the Gas', 'Thirteen', with its quirky riff and catchy chorus, and emotive rocker 'Return' are equally well delivered and tap into a similar vein.
Nevertheless, it's not all about riffs and hooks; the upbeat rhythms and bright guitar lines of "Like the Sun" have more of an indie feel, while closer 'Fix Myself' has a lazy summer groove going on. Even so, both tunes work well within the context of the album, adding a little variety and showing their versatility.
As a whole, this is a damn fine record from Static Fires; the songwriting is intelligent, it's got commercial appeal while retaining the band's identity and has great performances throughout. Excellent work.
4.5/5
'Thirteen' by Static Fires is out now.
Static Fires links: Facebook | Twitter | Bandcamp
Words by Edward Layland (@EdwardLayland)