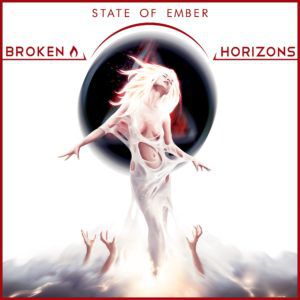 When thinking of music from the West Midlands, heavy riffs and hard rock comes to mind, State Of Ember definitely fits within this category. The Worcestershire trio's second EP 'Broken Horizons', packs a punch from the moment you press play. Overall the EP does a fantastic job at capturing the feel and power of a live hard rock gig, it's not hard to imagine listening to State Of Ember in a dimly lit rock venue, surrounded by headbanging fans shouting along to Chris Tamburro's lead vocals.
The EP starts off with the explosive 'Time & Time', at just under three minutes long it demands the attention of the listener. The growling yet melodic vocals fit in perfectly amongst the distorted guitar riffs and driving drums.
Across its six tracks, State Of Ember provides a cohesive and dynamic set of songs, For example, 'Fear of Falling' and 'Wrong Turn' sees the three-piece strip back the instrumentation in order to effectively build up the heavier sections.
'Broken Horizons' ends as it begins, with 'Beneath Our Dreams', a punchy track that doesn't leave you feeling disappointed. Featuring heavy instrumentation paired with powerful vocals and a killer guitar solo, this track is a great way to end the EP and leaves the listener wanting more.
State Of Ember manage to create a sound that is inspired by decades of heavy riff-based bands yet still maintain a modern flair. Overall, 'Broken Horizons' offers a new insight into the world of hard rock while paying homage to hard-hitting heavy bands that have come before, giving the band a new yet nostalgic taste.
3/5
'Broken Horizons' by State Of Ember is out now.
State Of Ember links: Website | Facebook | Twitter | Instagram
Words by Evelyn Manktelow