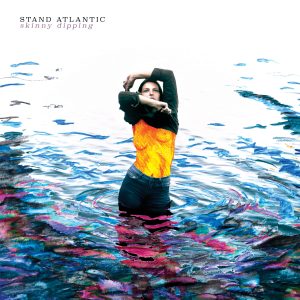 When Stand Atlantic made their introduction last Autumn with 'Sidewinder', many stood up and took notice of the trio's vibrant brand of energetic, catchy pop-rock. Since its release, singer/guitarist Bonnie Fraser, guitarist David Potter and drummer Jonno Panichi have been on a wave of momentum with touring throughout Europe and North America. At some point, they've also managed to write a debut album that truly fulfils the potential laid down on 'Sidewinder'.
On the surface, 'Skinny Dipping' is a solid case of "if it isn't broke, why fix it?" as it displays 10 stellar slices of infectious pop-rock you will helplessly play on repeat.
From the outset, its clear Stand Atlantic know how to play to their strengths with 'Lavender Bones' containing the first of many explosive choruses. Fraser's sincere vocals are delivered with complete honesty while her bandmates provide a solid, rhymic foundation. Likewise, 'Lost My Cool' is delivered with venom and angst as Fraser sings "found out you're full of shit, why don't you swallow it?" before erupting into a huge, bouncy chorus.
This is questionably a minor flaw of 'Skinny Dipping'. Throughout, Fraser's words are conveyed with a vulnerability, adding personal substance to the host of hooks on offer, yet Potter and Panichi accidentally become back up as Bonnie's confidently takes the lead role. Nevertheless, when they're producing pulsating highlights such as 'Speak Slow', 'Burn In The Afterthought' and 'Clay' (featuring Creeper's Hannah Greenwood), you realise how collectively strong Stand Atlantic are.
Beyond the memorable choruses, they occasionally rein things in as reflective moments 'Cigarette Kiss' and 'Toothpick' nicely slow down the tempo, allowing Fraser's lyrics to showcase her self-doubt and emotional maturity. While the band tend to act like goofs online, on this evidence, there is a thoughtful and admirable side to their craft.
For a debut full-length, 'Skinny Dipping' backs up the hype, proving to be addictive and heartfelt in equal measure. Stand Atlantic have a bright future.
4.5/5
'Skinny Dipping' by Stand Atlantic is released on 26th October on Hopeless Records.
Stand Atlantic links: Facebook | Twitter | Instagram
Words by Sêan Reid (@SeanReid86)