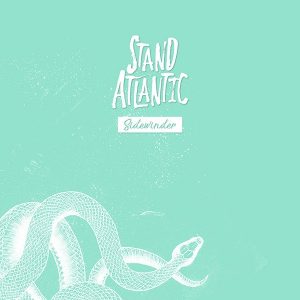 For a long time number of bands making a global impact after breaking out of the Australian music scene was hardly a torrent. But a couple of years after the likes of Tonight Alive and Parkway Drive cracked the damn, With Confidence and mainstream dominators 5SOS began to turn it into a tidal wave. Now Sydney's Stand Atlantic are the latest act to start making waves of their own. Based firmly in the up-tempo school of melodic pop-rock of the aforementioned TA and WC, on first listen to the trio's debut EP 'Sidewinder' they could well be the hottest prospect yet to emerge from Down Under.
From the first seconds of muted power chords and sultry vocals from Bonnie Fraser that usher in opener and title track 'Sidewinder', it's clear the band mean business. Defiant romp 'Mess That I Made' kicks things into even higher gear, swelling punchy chords and fizzing riffs back introspective lyrics that bite and claw against self-doubt and stop just short of becoming cliche.
'Push' treads the line between the pop-punk blast and pop-rock flag waver. There's woah-ohs aplenty, and although hints of auto-tune initially detract from Fraser's naturally pristine vocals, later as the track hits its crescendo the undeniable superstar quality of her voice shines through. Elsewhere 'Coffee at Midnight' provides the EP's highlight on a number that's intense, bruising and melodically on point in equal measure. It also sees Fraser put in a major shift on the vocals, really showing off her range, power and flexibility.
These Aussie newcomers have crafted an EP that's endlessly exhilarating, sonically resplendent and packing honed lyrical and melodic hooks that demand to be spun over and over. If Stand Atlantic can pen a full-length of songs as consistently top class as the ones on offer here, they'll be on course to chart a very bright future indeed.
4.5/5
'Sidewinder' EP by Stand Atlantic is released on September 15th on Rude Records.
Stand Atlantic links: Facebook | Twitter | Instagram
Words by Dane Wright (@MrDaneWright)