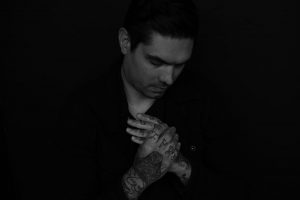 For people who are familiar with Mike Ireland through his work with New York punks, I Am The Avalanche, the laid-back indie-rock feel of his side-project Spirit Houses may be somewhat unexpected. The EP 'Two Passing Ships' is the follow-up to his self-titled 2015 debut, and in terms of the sound picks up from where he left off.
'Nightmares Every Night' opens the EP and is a solid if unspectacular way to kick off proceedings. Improving the longer it goes on, Ireland sings of "the demons that take over your life". Such topics are a recurring theme throughout 'Two Passing Ships' such as on EP closer 'An Open Letter To My Future Love' with "I'm addicted to alcohol and pills/I don't sleep much, I guess I never will". In general, the lyrics and the passion and honesty behind them are better than the music, which is all too often rather run-of-the-mill.
The three tracks following the opener are standard singer-songwriter fare, and 'Inn On Ursulines' in particular is rather forgettable. Clocking in at 1:59, along with following track 'We All Die Alone', there is not enough time for each track to really get going, though the latter at least has an infectious melody. The same goes for the even shorter 'Perfect Irish Stout', which is pretty enough, but ultimately features nothing to really grab the attention of the listener.
'Sweetheart, I'm Jealous' is probably the best track here, as the confessional nature of Ireland's lyrics and the uplifting, almost anthemic nature of the guitar combine with convincing effect. 'Death Was A Naked Sword' juxtaposes sensitivity and power, experimenting with baroque-pop for another successful track.
An amalgamation of indie, emo, and folk, 'Two Passing Ships' ebbs and flows, threatening to burst into life but never quite getting there. It's not a bad record as such, just inconsistent in terms of quality, with nothing that particularly makes Spirit Houses stand out above similar artists.
3/5
'Two Passing Ships' by Spirit Houses is released on 26th October on Darkshore Music Group.
Spirit Houses links: Website | Twitter | Instagram | Bandcamp
Words by Adam England