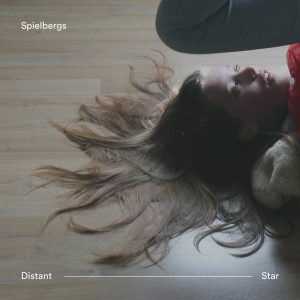 When you share your name with one of Hollywood's most acclaimed filmmakers, it can be difficult to find out what Spielbergs are all about. Thankfully, with the imminent release of their debut EP that could be about to change. Based out of Oslo, Norway, the trio of Mads Baklien (guitar, vocals, synth), Stian Brennskag (bass) and Christian Løvhaug (drums) produce a fine set of indie-rock efforts on 'Distant Star'.
Things start off in promising fashion with the rumbling rush of 'We Are All Going To Die'. Rolling drums dominant alongside surging guitars, with a post-punk tinge and subtle strings. It's clear early on that Spielbergs have a flair for writing shrewd hooks as 'Daisy! It's The New Me' follows with sun-drenched guitars adding to the vibrant number.
The title track is easily the EP's catchiest moment. Its driving guitar and bass compliments the hooky line of "we could be perfect, you could have made me better." Add to that a dizzying synth line and it's a summer-ready indie-rock delight.

'Ghost Boy' takes a different route. Over the course of its eight minutes, the trio serves up an entrancing blend of shimmering, reverb-laden guitars and rose-tinted lyricism ("let's stay together, lets runaway"). While twinkling post-rock traits gradually weave their way through to its conclusion. Although it's a welcomed change of pace, its length somewhat spoils the momentum gained. 'Setting Sun' rounds things off on a reflective, slower note. Nostalgic synth keys, plucky guitars and a steady tempo serve as its musical backbone, adding Baklien's contemplative vocal delivery. It's a fitting conclusion to an encouraging debut.
Despite the slight mid-point lull of 'Ghost Boy', Spielbergs' sun-kissed, lo-fi indie rock already has plenty of depth and variation to carry them forward. With a debut album in the works, 'Distant Star' is an ideal introduction to a band that could well shine in the future.
3.5/5
'Distant Star' by Spielbergs is released on 27th April on By The Time It Gets Dark.
Spielbergs links: Facebook | Twitter | Instagram
Words by Sêan Reid (@SeanReid86)