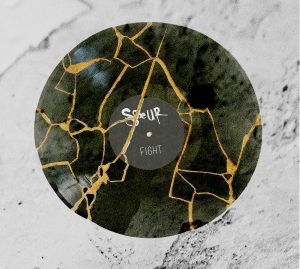 Whilst the UK public is going through its phase of worshipping the ground Idles walk on (and who can blame them?), it shouldn't be overshadowing the likes of fellow Bristolians Sœur, who deliver us another sonic cocktail of poppy alt-rock.
It's easy to lump Sœur in with countless of other bands that have a '90's sound' to their instrumentation, however, the key difference is that here it feels more like nostalgia rather than a shameless rip-off. They may not have the most original sound ever, but it works nonetheless. Whether it's the Smashing Pumpkins-esque thumping rhythm of 'Quiet It', or the slow-burning verse riffs on 'Whole Me' that sounds somewhat like Weezer's 'Say It Aint So', the bitter, angsty instrumentation is effective for their tight delivery.
As with their debut EP 'What Separates Us', guitarists Tina Maynard and Tanya Pulver's call and repeat vocal techniques are really where Sœur shine brightest.  You can feel the catharsis of losing a friend to suicide in particular with the dual melody of "I'm so tired, can't fight it, fighting I can't ride this".
'Out Again' features the usual hedonistic barrage of meaty drum fills and slamming guitar riffs, however, it's minute-long outro with Maynard's haunting refrain; "I won't submit to this, No I don't admit it" that encapsulates the never-ending battle with anxiety, with work still to be done.
Whilst each song on this has its own sense of introspective storytelling regarding personal struggles with mental health problems and emotionally abusive relationships, the final title track is by far their strongest output yet. 'Fight' is a pissed off punk anthem, influenced by a friend of the band's feelings when leaving the military;  "If I fight it all, will it ever be enough?" The song's build-up ends explosively, essentially as if Sœur have triumphed in their battles.
For all the bullshit that life delivers, 'Fight' channels traumatic experiences into something positive, noisy and deeply satisfying.
3.5/5
'Fight' EP by Sœur is out now.
Sœur links: Website | Facebook | Twitter | Instagram
Words by Ashwin Bhandari (@GIVEUPOX17)